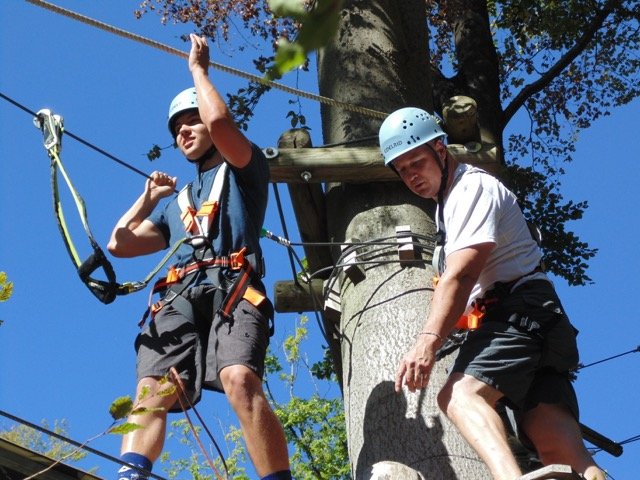 By the USAG Stuttgart School Liaison Office

Real life resilience was experienced by 13 youths and their parents by climbing, crossing and zip-lining together between trees at a forest ropes course, Sept. 18.
Child and Youth Services, through the Patch Youth Center and the School Liaison Office, offered the opportunity to challenge the Waldhochseilgarten at the Rutesheim Freizeitpark. Youth and their parents gained awareness of their connection with each other, confidence in themselves and their abilities, and a heightened sense of control over how to solve problems and overcome obstacles.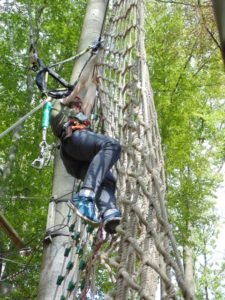 Relationships matter, and the teens experiencing the course with their parents let them deepen already existing connections in a new and challenging environment; they relied on each other to accomplish each task throughout the course working together to grow and succeed as a team.  One parent said he'd learned that it's okay to be afraid at times, and that the kids helped him overcome his own fears on the course as he learned new things about himself and his children.
"The first part scared me.  But then I took a deep breath and was able to balance on the ropes," said Stuttgart High School freshman Jacqueline Gillium.
The course provided a wealth of opportunities to gain confidence by demonstrating competence in real-life situations. Throughout the day, participants practiced the skills they'd learned, and the belief in themselves and their abilities continued to grow.
The use of deliberate breathing helped participants to slow themselves down, decrease anxiety and gain control as they maneuvered from tree to tree, driving the right emotions and reactions to effectively overcome the obstacles in their path.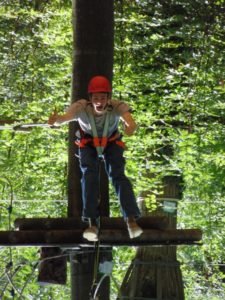 Participants bounced back and adapted to challenging situations throughout the day and brought the best of themselves to what they encountered. They gained self-confidence and self-control while deepening connections with each other.
For more information regarding the Ready and Resilient (R2 ) program and future outreach activities, contact the School Liaison Office at 430-7465 or 0711-680-7468.