If doctors said that you had a finite amount of time left, how would you spend your remaining days?
It's a question that Capt. Justin Fitch has already answered in no uncertain terms: He will continue to fight while devoting what energy he has to saving the lives of his brothers- and sisters-in-arms.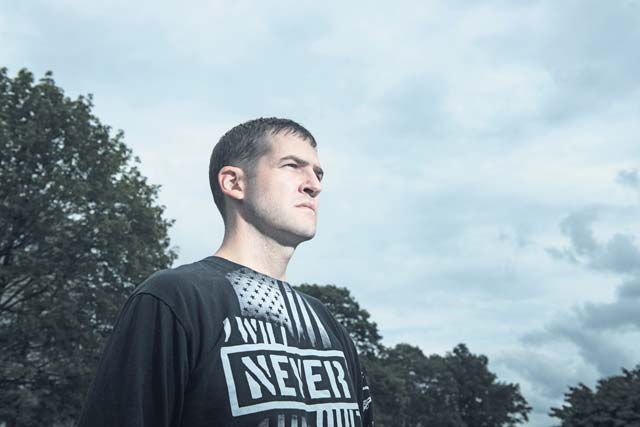 The 32-year-old commander of the Headquarters Research Development Detachment at the Natick Soldier Research, Development and Engi-neering Center has terminal colon cancer. He faces medical retirement from the Army, and doctors have told him that he has a matter of months
to live.
Fitch has endured 40-plus chemo-therapy treatments, six major surgeries and a number of smaller procedures. Daily painkillers help him to cope with the tumors that have wrapped themselves around his intestines.
Despite this immense personal challenge, Fitch thinks mostly about reducing the pain in others. He has spent the past year trying to increase awareness of and raise money for veterans with post-traumatic stress who are contemplating suicide. As Fitch regularly notes, 22 veterans a day take their own lives – in excess of 8,000 a year – more than all the U.S. service members who have been killed in action since 2001.
"Twenty-two is too many," said Fitch, an Operation Iraqi Freedom veteran. "We want to turn that number to zero."
As a result, Fitch has gone to battle against suicide. In November 2013, he began doing 12-hour team ruck marches with the "Carry the Fallen" campaign. Information about the campaign can be found at www.carrythefallen.org.
Since then, he and his "Team Minuteman" have raised $114,000 for the "Active Heroes" organization, which is developing a 144-acre retreat in Shepherdsville, Kentucky, for at-risk veterans and their families. Fitch has raised $60,000 as an individual. Those are the highest amounts in the organization, which has 109 teams nationally and has raised $330,000.
When completed, the retreat will have such amenities as solar-powered cabins, campsites, healing gardens, climbing walls, hiking and biking trails, archery ranges, petting zoos, equine therapy and a small artificial lake stocked with fish.
"We're looking at $4 to $5 million to finish (the retreat)," Fitch said.
"Money is the thorn in our side that we're trying to overcome. It just takes one thing to raise awareness and to inspire people to do what's good. And people are good. They just don't know how to help sometimes."
Maybe they should just follow Fitch's lead. Recently, he reached into his own pocket to donate the symbolic amount of $10,022 to the organization.
"If I wasn't trying to set up my wife for life, I would have put probably all the money in it," said Fitch, adding that he wanted "to show people that I'm committed to the charity, that I believe in it, because people see me as a credible figure. If I trust that much of my money in the charity, then they should, too."
Fitch said he has leaned heavily on his wife, Samantha, to get through this. The pain medication keeps him from driving, so he must rely on her to take him to and from work. She cooks his meals and takes care of the medical appliances that come with his condition.
"She puts up with a lot of emotional stress because of it," Fitch said. "She's a solid cornerstone in my life. I firmly believe she's the strongest influence that I have in my life."
His three days of chemotherapy treatments each week leave him tired, nauseous, dehydrated and sleep-deprived. He also suffers from what he calls "chemo-brain" – increasing memory problems. The other two days of the week, Fitch reports to his command at Natick, where he has served two and a half years.
"I do what I can in the short time that I have at work," Fitch said. "I try to keep my head above water. Realistically, between all the medical treatments that keep me out of the office, it has made it difficult. I always feel that I could do more. Honestly, I do. Despite what anyone says, there's still a war going on."
In what free time he has, Fitch works to keep other veterans alive. He understands their struggles, because there was a time in his own life when thoughts of suicide nearly consumed him.
"It's OK to seek help," Fitch said. "You can get help. Look at me. I'm a captain [and] I sought help."
Team Minuteman of Carry the Fallen will hold its next ruck march Sept. 6, on the 26.2-mile Boston Marathon course from Hopkinton, Massachusetts, to Boston's Boylston Street. Simultaneously, many of the other 109 teams across the nation will be doing ruck marches in their hometowns. Fitch will be on hand, but his illness will keep him mostly riding in the support vehicle.
"I do want to get out for a few miles to ruck with the team, preferably at the start and finish and maybe somewhere in between," Fitch said. "I don't see any possibility of me being able to finish the whole ruck with weight on my back."
There is one finish line that Fitch would like to reach — seeing the Active Heroes retreat completed. To do that, he would have to defy doctors' predictions. Smart money wouldn't bet against him.
"Other than family and friends, this is my final mission," said Fitch, "and I'm going to do everything I can to accomplish it."