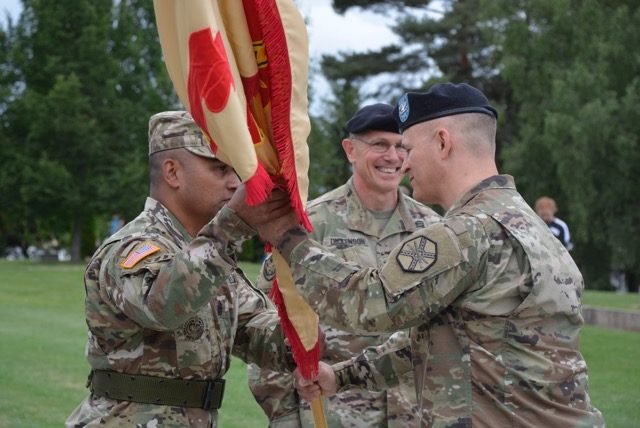 By John Reese
USAG Stuttgart Public Affairs
Col. Neal A. Corson assumed command of U.S. Army Garrison Stuttgart from Col. Glenn K. Dickenson in a ceremony on Washington Square, Patch Barracks, July 12, 2017.
Corson comes to the garrison after serving as chief of the Joint and Army Concepts Division, Army Capabilities Integrations Center, at Fort Eustis, Virginia.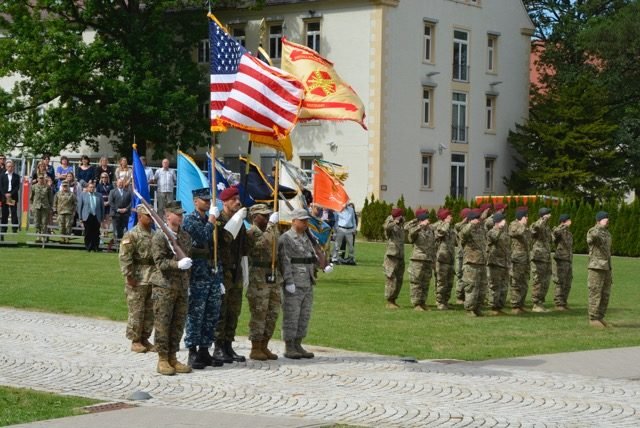 "I'm very honored and humbled today to be taking command of a great joint community, the Stuttgart garrison­ – a garrison that has demonstrated a dedication to the readiness of the unit's that reside here," Corson said, adding that part of what makes Stuttgart a great community is its family members.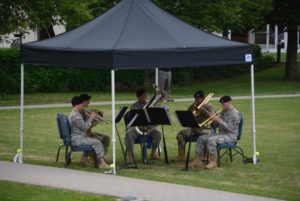 About 250 guests in bleachers and another 90 VIPs on the stage, including the incoming and outgoing commander's family members and senior military and civil service officers, observed the ceremony. Three color units (a German-American joint service color guard, a U.S. forces color guard and a guard of local unit flags) rippled in the cool, breeze. A company-sized element of Soldiers from the 1st Battalion, 10th Special Forces Group in formation and martial music performed by the U.S. Army-Europe Band's Brass Quintet supported the ceremony. Every garrison directorate, and assistance from U.S. European Command, provided behind-the-scenes work to make the ceremony seamless.
The ceremony was officiated by Michael D. Formica, director, Installation Management Command-Europe. Formica also presented Dickenson with the Legion of Merit at a farewell ceremony held prior to the change of command.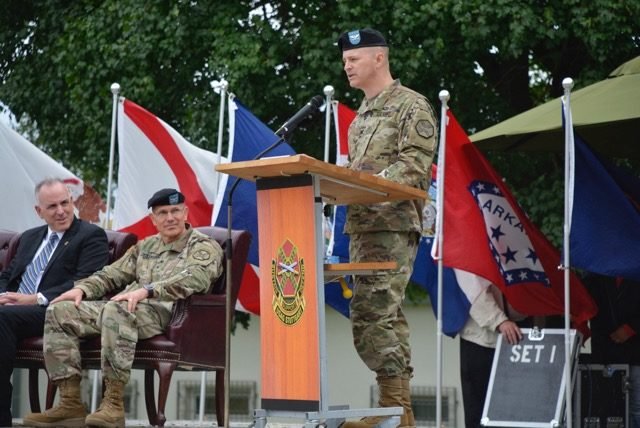 Both the outgoing and incoming commanders read a portion of their remarks in German, receiving a warm response from the assembled burgermeisters, senior German military personnel, Polizei, firefighters, forestry officers and other VIPs on stage, as well as Corson's German aunt and uncle in attendance sitting with his parents.
"Stuttgart is a community that is recognized for its excellence," Corson said. "I hope in the future to continue to build on that legacy that Col. Dickenson has started and make the community even better."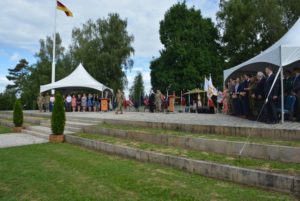 Dickenson, a military intelligence officer who commanded the garrison since assuming command Feb. 27, 2015, leaves for Fort Belvoir where he will be the executive officer to the commander of the Army's Cyber Command. The legacy Corson referred to is how the garrison took top honors as IMCOM's best garrison worldwide with the Army Communities of Excellence gold medal, followed by the 2017 Commander in Chief's Annual Award for Installation Excellence. Dickenson implemented a number of infrastructure initiatives, such as an aggressive water and energy efficiency program that generated almost $2 million in cost savings, and advanced major efforts to improve quality of life for the assigned personnel.
At recent events and on his farewell radio address on AFN Stuttgart, July 5, Dickenson said how much he'll miss the Stuttgart military community because it truly is a place where service members and DoD civilians say "I'm glad I live here."
Biography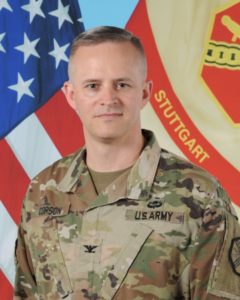 Col. Neal A. Corson was commissioned in the United States Army as an Armor Officer in 1992 from the Virginia Military Institute. After graduating from the Armor Officer Basic Course, he served as a tank platoon leader, a scout platoon leader and a troop executive officer in 3rd Squadron, 3rd Armored Cavalry Regiment at Fort Bliss, Texas and Fort Carson, Colorado.
In 1997, after completion of the Armor Officer Advance Course, Corson served as an assistant operations officer in the 2nd Infantry Division G3 at Camp Red Cloud, Korea. Upon return to the U.S., Colonel Corson severed as an assistant S3, A Troop commander, and HHT commander in 3–7th Cav. Regt. at Fort Stewart, Georgia.  After command, Corson served as an observer/controller and a rotational planner at the Combined Arms Maneuver Training Center, Hohenfels, Germany.
From 2005 to 2009, Corson served with 2nd Brigade, 4th ID at Fort Hood, Texas, and Fort Carson as the brigade planner, operations officer for 1–67th Armor, and executive officer for 2-4th Bde. Special Troops Battalion. While assigned to 2–4th ID, Corson deployed twice in support of Operations Iraqi Freedom, November 2005 and September 2008.
In January 2011, Corson assumed command of 2-3rd BSTB, 2nd Bde. Combat Team, 3rd ID, at Fort Stewart, Georgia. While in command, he deployed to Kandahar Province, Afghanistan as a security force assistant team commander where he coached, mentored and advised the commander of the 404 AUP Zone Headquarters.
After command, he served as the deputy chief of staff for the 3rd ID followed by attending Harvard University's John F. Kennedy School of Government as an Army War College Fellow.
From 2015 to 2017 Corson was assigned to the Army Capabilities Integrations Center (ARCIC) at Fort Eustis, Virginia, where he served as the Joint and Army Concepts Division Chief and as the executive officer for the director of ARCIC.
His civilian education includes a Bachelor's degree in Economics from the Virginia Military Institute and a Master's degree in Military Arts and Sciences from the Command and General Staff College at Fort Leavenworth, Kansas.
His  awards and decorations include the Legion of Merit, the Bronze Star Medal (two Oak Leaf Cluster), Meritorious Service Medal (three OLC),  Army Commendation Medal (three OLC), the Army Achievement Medal (four OLC), National Defense Service Medal, Armed Forces Expeditionary Medal, Southwest Asia Service Medal, Iraq Campaign Medal, Global War on Terrorism Expeditionary Medal, Global War on Terrorism Service Medal, Korean Defense Service Medal, Meritorious Unit Citation Award with an OLC, Army Superior Unit Award  and the Parachutist Badge.