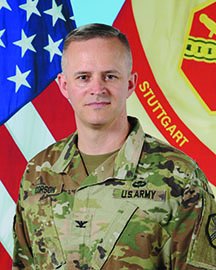 I am honored and humbled to be joining the U.S. Army Garrison Stuttgart team. It is a true privilege to be given the opportunity to command, especially here in Germany where I was born and raised as a military family member.
I can't thank the community enough for the gracious welcome you have all given my family and I. Upon arriving we were able to participate in the community's Fourth of July celebration and immediately felt right at home.
It's not every day that you get to inherit the Army Community of Excellence winner. The standards have been set high, but I know the dedicated IMCOM professionals of the garrison will ensure that we continue to meet and exceed the standards they establish by improving our aging infrastructure and providing critical services and programs.
The garrison team supports a diverse joint-service community which includes service members, civilian employees and family members from every service component, many government agencies, and a strong retiree population. I look forward to meeting with all our mission partners as well as with the many family readiness support organizations and groups to create a community that supports unit readiness and provides a robust and thriving community for us all.
While I continue to learn about the various aspects of garrison operations and its people, I have learned we have a strong relationship with our German hosts. I look forward to meeting with the surrounding city officials and strengthening the relationships that we have with our neighboring communities.
A large percentage of the personnel who make up our military community here in Stuttgart live off post, so maintaining open communications and a strong and positive dialogue with our host nation dignitaries and their communities will be a very important part of my job.
As the Garrison Commander I intend to be your advocate within the surrounding German communities and ensure that the garrison continues to delivering vital support programs. 
My family and I are glad we live here and are looking forward to being an active and contributing part of the U.S. Army Garrison Stuttgart community.