USAG Stuttgart Public Affairs
Life in Germany can be very different than in the U.S., and often it's the little things that make the big difference. These tips may help to ease some of those little daily challenges.
Germany is part of the European Union, a collection of European nations that have extensive legal agreements with one another. Travel across borders in Europe is usually not restricted and is similar to travel between U.S. states. However, anyone on leisure travel (not official orders) should have a tourist passport on them at all times. Service members should also be aware of their organization's policies on cross-border travel. A leave or pass status is often required when crossing borders.
Due to increased force protection measures, regulations and policies concerning the wear of the uniform off post are more restrictive in Europe than the U.S. Become familiar with your organization's policies and follow them.
Electricity and communications
Germany uses a 220-volt electrical system which means many appliances from the U.S. require an electrical transformer that will convert 220-volts to 110-volts. However, some appliances won't work properly, even a transformer. Also, using transformers tends to use more energy than using 220-volt or dual-voltage appliances. Some 220-volt appliances are available for long term loan from the Furnishings Management Office.
Landlines and cell phones are both readily available throughout Germany and are offered by a variety of service providers, as is Internet. Contracts are (usually) initially two years and automatically renew unless cancelled well in advance. Unless specifically included in the rate plan, all calls incur fees, even local calls. Flat rate plans may include local and national calls throughout the German landline network. Cell phones in Germany are available with a variety of rate plans for outgoing calls, messages and data downloads. Most incoming cellular calls do not incur a charge for the receiver of the call, but calling a cell phone from other cell phones, or landlines does incur a fee unless included in a given flat rate plan. Internet is available from the telephone or cable companies located in the Panzer Kaserne Exchange. Availability of Internet can vary widely depending on location. In larger cities, broadband access is very common and compares to broadband access found in the U.S. In smaller outlying villages, Internet access, if available, can be much slower. If living off base, it is often a good idea to look into the Internet access available when choosing a location in which to live.
The American Forces Network (available through TKS located at the Exchange) offers English language cable television services on base and to some off-base locations. German cable and satellite providers may offer some limited programming in English, but many off-base residents also look to online sources for streaming video programming. Be aware, because of country copyright restrictions, some of the U.S.-based subscription online services may not work on German Internet connections. Do your research before signing up for an online video streaming or movie download service. Also, be sure not to participate in any illegal downloading or uploading of copyrighted material.
Community quiet hours
Most cities and villages have ordinances concerning loud noises on certain days and times. In some areas these are enforceable laws, and in others, simply courtesy guidelines. Regardless of whether or not they are legally enforceable, they are considered a cultural norm to follow. Though specifics may vary from town to town, a good general rule is to observe quiet hours nightly from around 8 or 9 p.m. until about 8 or 9 a.m. Monday through Saturday, and all day on Sunday. During these times, try to keep loud noises to a minimum and do not engage in activities that inherently create loud noises, such as lawn mowing, using power tools or playing loud music. To find out the specific ordinances in your town or village, visit the local government offices.
Germany observes a quiet day on Sundays. Most retailers, including grocery stores and many times even fuel stations and other conveniences, are closed on Sundays. In larger cities and on the autobahns, fuel stations will often be open, though may have limited hours. Restaurants and some bakeries may also be open on Sundays, but will often have limited hours.
Banking and mail
Banking services are offered to the Stuttgart military community by Service Credit Union and the Community Bank. Payment of many German bills, and occasionally retail purchases, are often accomplished through a direct bank transfer system (Überweisung). German transfers can be processed through both SCU and Community Bank, both of which are connected to the German banking system.
Command-sponsored service members and civilian employees will get an Army Post Office mail box for personal use. Because it is part of the U.S. mail system, U.S. mailing rules apply and some things may not be mailed through the APO. Visit www.usps.com before shipping any questionable items. Also, you may be exempted from customs fees when importing items from the U.S., even when shipped through non-U.S. means. Those considering importing items for personal use not through the APO should check with the customs office for more information.
Tipping
Tipping is handled differently in Germany than in the U.S. At restaurants and bars, a set-rate tip is not generally used. Tipping in Germany is based on the quality of the service, and a good rule of thumb is to round to the next even euro amount. For example, if the bill is € 14, a tip of about €1 for a total of €15 might be appropriate. Also, tips are usually given directly to the receiving person as part of the payment transaction, and are not left on the table. If paying with a credit card, be sure to tell the server the full amount to be paid, including tip, as many credit card machines in Germany do not provide a receipt that allows for a write-in gratuity.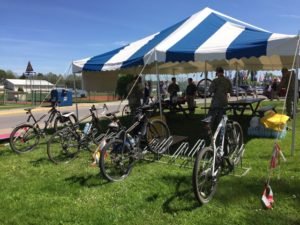 Bicycling and the commissaries
Germany is ranked the fifth most bike-friendly nation in Europe by the European Cycling Federation (27 total nations ranked). Getting around by bike is safe and easy throughout Germany and makes a great way to stay healthy as well. Cycling paths are abundant and well-marked. While Germany does not have a bicycle helmet law, most U.S. installations do have a mandatory helmet policy for all cyclists. German law requires safety items such as lights, two brakes and reflectors.
Finally, the Defense Commissary Agency offers a wide variety of American brand name foods, fresh produce, beauty and health products and other groceries can be found throughout the Stuttgart military community. The main commissary is on Patch Barracks, with smaller commissaries on Panzer Kaserne, Kelley and Robinson Barracks.