Story by Staff Sgt. Thomas Mort Special Operations Command Europe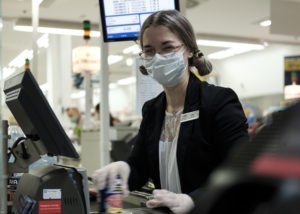 STUTTGART – On any given evening, approximately 30 workers and volunteers converge at Patch Barracks' commissary to load, shelve and scan products – a steadfast team fighting on a new front line against a deadly and invisible enemy, COVID-19.
Some cashiers, like Irina Hodges, a commissary teller, have consistently worked extra hours to keep the crucial commissary benefit open to the military community, retirees and civilians. Commissary staff is there daily to receive shipments, which arrive six days a week.
"I'm just here doing my job and doing my part to keep everything going," Hodges said. "Right now I'm full time at 40 hours a week whereas before I was at 28 a week."
The Defense Commissary Agency maintains four commissaries at U.S. Army Garrison Stuttgart, a joint service military community serving roughly 28,000 Americans.
"Since COVID-19 started, we've had a 50 to 80 percent increase in business and high-demand items," said Scott Harmon, commissary store director for Patch Barracks and Panzer Kaserne. "This all started around March 9."
Early on, commissary workers met increased demands with a much smaller staff than normal, Harmon said.
"The issue was, when we lost ten to 30 per-cent of our workforce the show still kept on," explains Harmon. "With the help of garrison leadership and the community, we've pulled together for all four commissaries and we've been able to get critical hires on board."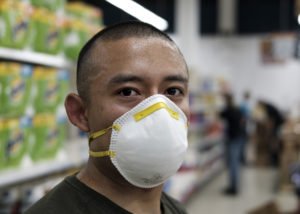 Along with the regular staff, the commissary and community have been fortunate to have so many willing volunteers step up and help out. A U.S. Army Soldier, assigned to Special Operations Command Europe, was one of many who answered the call.
Sick and quarantined in mid-March, his team members from work rallied, bringing him food and supplies through a window. His only human contact was through the phone.
"I feel really fortunate to still have a job and I just wanted to give back to the community," he said. "So, the past six to seven days, I've been volunteering at night to come here, just some small way to give back."
Some local German employees also stepped forward to help out with crucial manpower and leadership. Dieter Hitchfel, a night crew supervisor with more than 33 years of DeCA experience, is one of those locals who has been on hand to help. A manager, security guard and peacemaker, Harmon called Hitchfel the backbone of the night shift.
"He's really mission essential," Harmon said. "He's one of these guys who can give 120 percent."
Hitchfel's motivation stems from the severity of the coronavirus and its impact on people he cares for.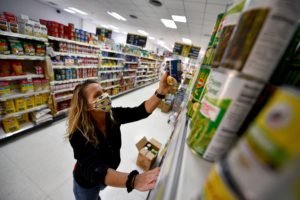 "I want to serve the people and I want the people happy," Hitchfel said, adding that he's made friends with many Americans in Stuttgart, some of whom are now stateside. "In the 30 years, I know a lot of people and the situation is really hard."
With the hard work of the cashiers, regular warehouse staff and volunteers, more than 90 percent of product shipments are able to be put out for shoppers. For some items – cleaning products and disinfectants among them – the stores order large quantities, Harmon said.
"So, you really need extra hands to get these items from the truck to the shelf," Harmon said.
"You need an army of volunteers and workers to keep this store full."