Col. Jason W. Condrey
Commander
USAG Stuttgart
Many service members here at U.S. Army Garrison Stuttgart have faced adversaries in faraway places.  In the face of danger, we have watched teammates commit themselves, without hesitation, to seemingly insurmountable struggles in support of one another.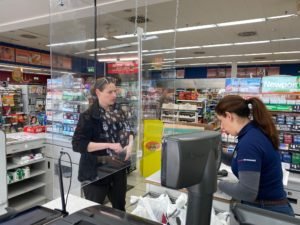 While combatting coronavirus here, I've seen the same. However, in this battle, it's not the trooper with a rifle on the frontline. This new frontline, one that includes our homes and families, is defended by a mask-wearing cashier behind a sheet of Plexiglas.
Since early March, when the first COVID-19 cases appeared in our community, we dramatically reframed our understanding of what is "mission critical" and "mission essential." These last few weeks provided the opportunity for a renewed appreciation of medical workers, teachers, truck drivers, cashiers, hotel staff, people stocking shelves, and the list goes on…. Squads of volunteers show up at our commissaries to restock and stand shoulder-to-shoulder with mailroom clerks. I, and many others, are grateful for their support.
We're seeing this both on post and off. Most people in our community live in German communities. You shop in local stores and see the Germans' approach firsthand. Our host nation partners implemented many measures to stop the virus from spreading and we did not hesitate to follow their lead.
With this new frontline, there was no fallback, no backup position. Our goal was always to make the garrison our shelter. Essential services on post could not be closed, which meant essential staff would be required to work amid the spreading virus.
At first, we surged to ensure essential services remained up and running. The way that everyone came together was impressive. Our staff, augmented by service members, volunteers and emergency hires, have not missed a beat.
What makes it more impressive is how people do this knowing they are putting themselves and their families in harm's way. Each day, they are out there — easing our access to food, supplies, fuel and more — despite the fact that they might come in contact with the virus and bring it into their homes.
With the Red, White & Blue shopping group cycle, we've implemented measures that keep us separated in time and space. That's helped break the spread of the virus. For a two-week stretch at the end of April, we had no new positive cases. Many more people in our community have recovered than who are currently infected.
These are good signs, but it's not the time to be complacent. The coronavirus, the microscopic adversary we are dealing with, is still out there. With that reality in mind, you've heard me say, "Every day is COVID day, until it's not."
That said, seeing how our staff, organizations, volunteers and community members continue to support one another in these challenging times, I'm reminded fittingly of the Garrison's slogan – "I'm glad I live here" — it remains for what we have experienced and whatever the future brings.
The Stuttgart CPAC NAF HR Office continues to fill positions for Family and MWR during the COVID-19 outbreak such as Hotel Desk Clerks, Food Service Workers and Food and Beverage Attendants. Go to USAJOBS and type "NAF" in the keywords and "Stuttgart" in the location section to see available positions.