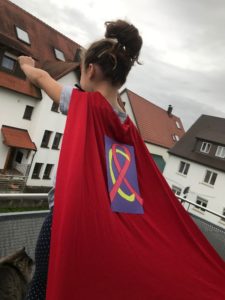 USAG Stuttgart Public Affairs Office
In celebration of Red Ribbon Week, Stuttgart's Army Substance Abuse Program (ASAP) hosted its first ever Red Ribbon cape making contest and received some pretty amazing entries.
Red Ribbon is the oldest and largest drug prevention program in the nation, reaching millions of young people each year. The program is designed to help parents and schools deliver an effective drug prevention curriculum that is positive and fun, two things necessary to maintain good mental health.
Students in grades K-8 were challenged to create capes and submit photos for a chance to win prizes in support of National Red Ribbon Week, which took place this year from October 23-31.
Caitlyn Campbell, age 7, was selected as one of the grand prize winner! Congratulations to Caitlyn and all other winners listed here!
Stuttgart Elementary:
Caitlyn Campbell
Aurelia Buschang, second grade
Veronica Buschang , kindergarten
Sophia Buschang, second grade
Finn Smith, kindergarten
Oliver Smith, second grade
Tessa Smith, fourth grade
Patch Elementary:
Alana Johnson, fifth grade
Leif Renwick, first grade
Shannon Bell, pre-K
Paula Noriega, first grade
Patch Middle:
Juan Noriega, seventh grade
Averi Johnson, seventh grade