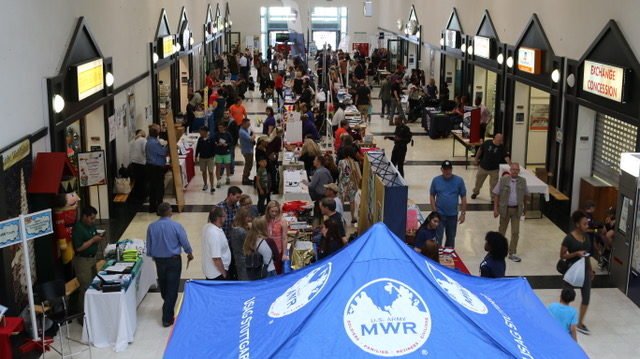 By Joel Wasko
Marketing Specialist
USAG Stuttgart Family & MWR
It is not every day one gets to meet a superhero. At this year's Community Activities Registration Education (C.A.R.E.) Fair, visitors will get a chance to meet all kinds of superheroes of the USAG Stuttgart community. Of course, not all superheroes wear capes and have superpowers but instead work behind the scenes making sure the community receives the support they need to be able to say "I'm glad I live here."
C.A.R.E. Fair 2019, organized by Army Community Service Family & MWR and partnered with the Exchange, will take place at the Exchange Mall on Panzer Kaserne, Saturday, Sep. 7, from 10 a.m. until 2 p.m..
Expect to see all kinds of organizations and clubs from the USAG Stuttgart community.
"It's the best way to learn about resources available, and even have an opportunity to register for activities and programs," said Jessica LaGassey-Simpson, event organizer, ACS.  "For example, participants may sign up for a club's newsletter, a trip, a sports team and much more. It's guaranteed you will learn something new about your community and have new ideas about what to do while in Germany."
Additionally, everyone will have the opportunity to win the C.A.R.E. Fair 2019 grand prize, a Deutsche Bahn Trial BahnCard 100 for two, which allows you to travel throughout Germany for 3 months on all trains (ICE, IC, EC, RE, IRE, S-Bahn, etc.) and most public transportation in big cities (ex. zone 1,2 in Stuttgart).  It is basically free travel for two people to see Germany for three months. To enter the drawing, simply submit your info by noon, Sep. 6, or visit the MWR Marketing booth at the event. The winner will be drawn at the fair at 12:30 p.m. and must be present to win.
The C.A.R.E. Fair flea market that will take place simultaneously on the patio of the Exchange. After you register for activities, go search for hidden treasures at the flea market.
For more details on the C.A.R.E. Fair 2019 and grand prize drawing rules, visit stuttgart.armymwr.com.