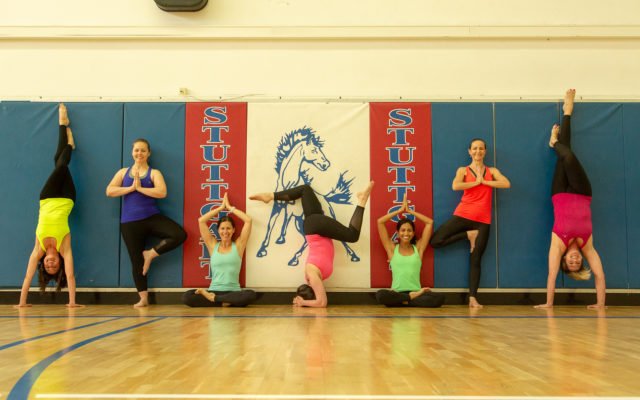 Story by Anne-Marie Harcrow
Fitness Coordinator
Family and MWR, Community Recreation Division
For the month of August, the Family and MWR Sports & Fitness team is highlighting the diverse world of yoga. Numerous different styles are offered within the USAG Stuttgart foot print and MWR's instructors are excited to share their different approaches. As part of the highlight, Sports & Fitness is offering a yoga incentive program. Patrons can pick up a loyalty card at Panzer, Patch or Kelley Fitness Centers, and after participating in five different classes, return their completed card to one of the fitness facilities for a special gift.
Yoga can be an effective way of staying in shape or supplementing other modes of exercise. Additionally, the psychological benefits of yoga, such as mental clarity, concentration, and focus, are long established.
"For me, yoga is about feeling good for a lifetime by increasing flexibility for mobility and gaining strength for stability," said Brienna Pruce, yoga instructor.  "I believe a balanced, mindful lifestyle helps us appreciate our limited time while finding purpose and fulfillment."
Many have found that a love of yoga does not necessarily happen instantaneously; it can take several tries or different types to find a yoga class that fits one's goals.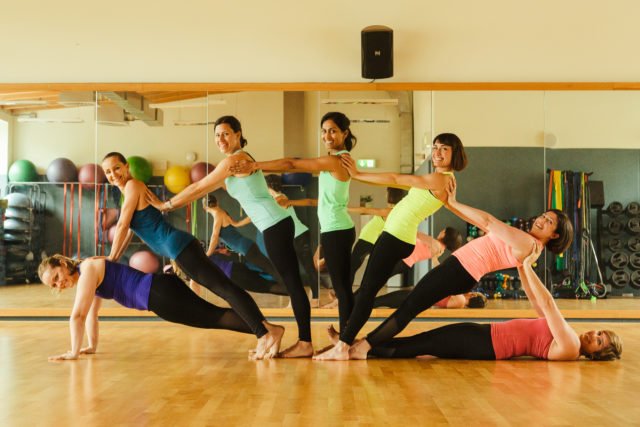 "I fell in love with yoga about 10 years ago when I was looking for a way to compliment my strength training. Honestly, the first few classes I went to I hated, but when I found a power yoga class I was hooked!" said group fitness instructor and personal trainer Traci LaRosa. "I was excited that I could build muscle and strength through yoga. I completed my 200 hour RYT and have been teaching ever since. My style is Vinyasa, or flow, and I love incorporating strength moves in my classes."
Yoga transcends the classroom and can be used in practical application and various contexts to improve quality of a life.
"It is called yoga 'practice' because the real performance happens in life. I use yoga when I am stuck in a traffic jam and need to remember to breathe; I use yoga when my son is upset and I need mental clarity to calmly resolve the problem," Pruce said. "I also imagine myself at ninety years old practicing yoga to maintain my full range of motion so I can reach the top shelf."
For a community that deals with unique challenges as part of the military lifestyle, it is important to note that yoga can also be an effective tool to cope with stress and increase resiliency.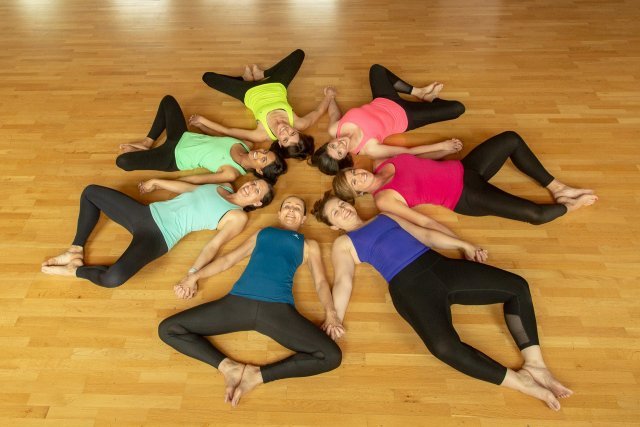 "Stress is part of life, but it is how we prepare and react that has the greatest impact on our wellbeing," Pruce explained. "As an analogy, the seedlings in my mom's greenhouse need exercising with a fan to recreate the stress of wind. If left to grow without stimulation, their stems easily snap under pressure from the outside world. In a similar way, I incrementally challenge myself on my yoga mat to build resilience so that in my daily life I can use my yoga discipline for a firmer, unshaken spirit."
"Yoga, yoga, yoga!"
Additional information about USAG Stuttgart's yoga classes can be found here.