By Rick Scavetta
U.S. Army Garrison Stuttgart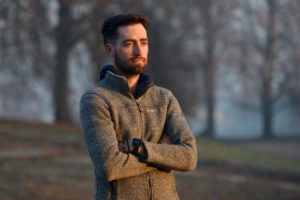 On New Year's Day, when Dustin Johnson left U.S. Army Garrison Stuttgart to continue his run across the globe, he left behind hundreds of community members inspired by his cause — raising awareness of suicide in the military and among veterans.
Johnson, a Navy veteran, overcame a suicide attempt and lost a friend to suicide. By the time Johnson reached Stuttgart, he'd already run across South America, half of North America and most of Europe, roughly 6,000 miles in 190 days. Thousands of people followed Johnson as he continued, running more than 30 miles per day across Europe and back in the States.
Online fans were shocked to recently learn of Johnson's new challenge — he was shot in the face with fireworks on Independence Day and blinded in one eye. Severe pain and sunlight sensitivity caused Johnson to get his damaged eyeball removed. He remains determined, however, to help others — especially service members and veterans.
"Someone out there may see me struggling. If I give up on myself, they may give up on themselves," Johnson said. "So, if I keep fighting and I can push through, then maybe I can help someone who doesn't have anyone else to lean on."
If I keep fighting and push through, then maybe I can help someone who doesn't have anyone else to lean on."
September is Suicide Prevention Awareness Month. By not giving up, Johnson hopes service members and veterans who hear his story look at what he's overcome and find inspiration.
"During these tough times we are presented with two choices. Stay down or get up. Be a victim or a hero," Johnson said. "Adversity will be present throughout our whole lives. I refuse to be held down as a victim, I will rise as a hero."
Meeting the Stuttgart Military Community
On Dec. 31, 2019, USAG Stuttgart community members first met Johnson and learned of his past at an event held by the USO and the local VFW post. In 2017, after three years serving as a Navy plane captain aboard three aircraft carriers, Johnson left the military. Within six months, he missed the camaraderie and became unhappy, depressed and numb. When his house burned with all his possessions. Johnson was devastated and attempted suicide.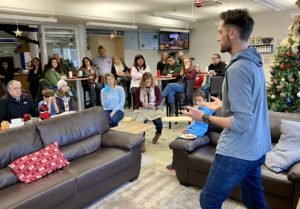 While recovering, Johnson took advice from doctors and friends. He developed a new goal, to use running to help others. In May 2019, he began running, first in the U.S., then in South America. (Click here for that story)
By Nov. 1, he arrived in Europe, running across Portugal, Spain, France and Belgium before heading to the U.S. military communities in Germany. He spent Christmas at U.S. Army Garrison Rheinland-Pfalz before his 107-mile run from Ramstein Air Base to Stuttgart.
In Stuttgart, Christy Price and her husband Jim welcomed Johnson into their home. Her own son had left for basic training and maternal instincts kicked in, she said. She wanted Johnson to have a safe place to rest, decompress and get home-cooked meals. During his stay, he became like one of the family.
"He's incredibly centered and knows what's important to him," Price said. "He decided to make his life positive and share that positivity with the rest of the world, to let them know they are not alone."
Supporters treated Johnson to Swabian fare and joined him for a fun run in a local park. Johnson's run struck a chord with Anita Schorlemmer, an avid runner since her school days.
"Veteran suicide is a huge problem and it needs more attention."
"Veteran suicide is a huge problem and it needs more attention," said Schorlemmer, a military spouse. "He's running around the world and has an interesting story to tell."
After Stuttgart, Johnson attempted running 418 miles nonstop to Berlin, hoping to break a world record. Schorlemmer ran alongside Johnson Jan. 1 as he departed Killesberg Park. She recalls sharing the last steps with Johnson on that bitter cold morning. After five miles, she had to turn back and made a recording of his farewell.
"He kind of ran backwards. We wished him all the best," Schorlemmer said. He turned around the corner and was gone."
Nineteen hours later, 84 miles outside Stuttgart, an oncoming car ran Johnson off the road. He slid into a ditch, hit concrete 10 feet below and severely strained his leg. While convalescing at U.S. Army Garrison Bavaria, Johnson then learned how Australia's wildfires would curtail his world run. Still, he overcame his injury, ran to Turkey, then flew to Los Angeles — running back home to Missouri by February.
Living in military communities, and through her husband's previous work with wounded warriors, stories of suicide are not uncommon, Schorlemmer said. She closely followed Johnson's progress through an online group.
"That young man doesn't seem to get a break," she said. "He gave so many people hope. Hopefully, now he can draw from the energy that people are thinking of him. He can use that to come back, just like he did with his suicide attempt."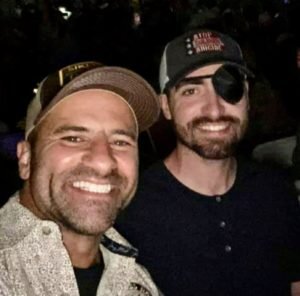 Tragic accident, incredibly preventable
Back home, Johnson appeared at veterans' fundraisers and local awareness events. As coronavirus swept across the U.S., he began making wood furniture, to include benches and picnic tables with the U.S. flag.
On Independence Day, Johnson dropped off one of his custom tables at a friend's house. "Someone at this house thought it would be funny to shoot Dustin with a roman candle," his mom Tina Johnson explained to an online group. "The roman candle landed under Dustin's glasses … where it exploded."
Rushed to a local hospital, Johnson later went to Barnes-Jewish Hospital in St. Louis. The damage was severe. One doctor told Johnson it was the worst eye burn he'd ever seen, Tina Johnson said. Johnson underwent eye membrane surgery.
"It's a tragic accident, incredibly preventable," Price said. "I don't think the man who caused the accident has been charged or even reached out. That breaks my heart that someone is not willing to take responsibility."
Fans from all over sent wishes for recovery and collected more than $4,300 for him. He got a kitten named Nola. After the accident Price texted Johnson who, to her surprise, quickly responded.
"It was nice to know he was reading and responding to his texts," Price said. "My heart goes out to him. All I can do is let him know we are thinking about him and sending our love."
Facing surgery, returning to running
At first, Johnson was unable to go out much. It was hard adjusting to doing things with one eye. Bright sun is unbearable. For now, Johnson wants to wake up each day with a purpose and pursue every day like it was his last, what he calls a "relentless forward progression."
"It's been a heck of a roller coaster the last two months, but on Sept. 9th I will have an enucleation," Johnson wrote in an Aug. 26 Facebook post. "They will remove my eye."
An ultra-marathon runner, Johnson's races often last 24 hours and go through wooded areas. Without an eye, his depth perception is off and running at night poses a challenge — something he is determined to overcome.
"Right now, I haven't been able to run much because of my severe light sensitivity," Johnson "After my surgery I will be able to get back out on the trails and see how this will affect me in the long run."
Doctors will take flesh from his inner lip for his eyelid, fashion a space for a prosthetic eye, to later be placed, and sew his eyelid shut, Johnson said. He has a unique idea for a prosthetic.
"I don't think I want them to color match my right eye but instead, I want one of either two things — Capt. America's shield or a phoenix," Johnson wrote. "Every day, I will be able to look at myself and know deep down everything I've been through. Not just the eye injury, world run, or my fire, but everything this life has thrown at me."
"If for one second I catch myself slipping again, like I have so many times in the past, I can go look at myself in the mirror and see the fighter… the man who has been reborn inside more times than I can count."