By Becca Castellano
U.S. Army Garrison Stuttgart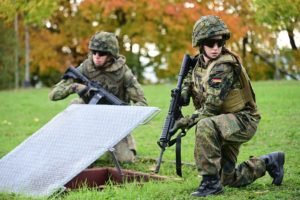 Katharina Juergens joined the Bundeswehr in 2017 as an information technology specialist, and is now on her way to becoming a commissioned officer.
As a hauptgefreiter, roughly the equivalent of a U.S. Army specialist, Juergens led patrols recently during Iron Castle 2020 at Robinson Barracks, a four-day bilateral training and partnership exercise between the the U.S. 52nd Signal Battalion and Germany's Communication and Information Systems Support Battalion 293.
Juergens was grateful for the chance to lead a joint team and practice force protection measures during the exercise. "This experience shows me that as an officer, I must be well prepared for any situation….and work to make the right decision quickly, because my team is counting on me," she said.
Juergens' chain of command recognized her dedication to her job and her unit, the Communication and Information Systems Support Battalion 293. She underwent testing at the German military assessment center in Cologne and showed all the necessary qualifications to be a leader, said Lt. Col. Marc Richter, her battalion commander.
"I trust this judgement and I am sure she will become an outstanding soldier," Richter said.
For the next three years, Juergens will take classes at the German Air Force Officer School in Fürstefeldbruck and commission as a lieutenant when she graduates. During that time, she will also continue reserve duty and training in Munrau.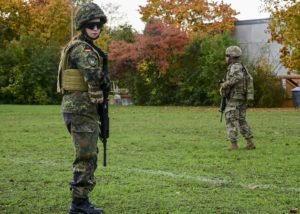 While she focuses on studying, in hopes of commanding her own battalion someday, Juergens was glad to have an opportunity to lead a German-American security patrol during training.
"I wouldn't get this opportunity in my normal job. It shows me how much I have learned, which is good for my confidence, but also how much I still have to learn," said Juergens, who appreciated the challenges she faced. "I think it's an officer's responsibility to adapt to different positions very quickly and to be able to take charge and make fast decisions that affect your team."
Juergens' team consisted of one German and one American soldier from the 52nd Signal Battalion. They patrolled Robinson Barracks together, responding to different levels of threats and scenarios, and learning each other's procedures.
"We had very little time to get to know each other and understand each other's systems before we had to work together in crisis situations and trust each other," she added. "We had to learn very quickly."
U.S. Army Capt. Milo Estrello, who organized and ran the exercise, watched as Juergens stepped into her leadership role. The training offered Juergens a new perspective and showed her how the U.S. military trains.
"I came away very impressed at how she handled the pressure while operating in chaotic situations, all while remaining calm, cool and collected," Estrello said. "I believe the 293rd battalion has a future superstar leader on their hands."