By Sgt. 1st Class Daniel Love
Special Operations Command Africa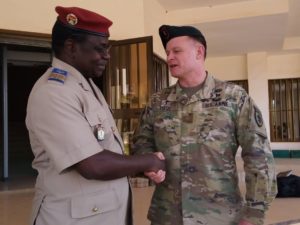 In 1918, when the U.S. military was engaged in all-out war in Europe, a pandemic was also taking its toll across the force. This wasn't just a problem for medical personnel, this was a problem for chaplains. How could they care for their formations responsibly when they couldn't safely be close to them?
Fortunately, close to 100 years after the third wave of the 1918 pandemic ended, modern chaplains can use an invisible tool to continue their work while fighting an invisible enemy: WiFi. Special Operations Command Africa, along with chaplains across the military, have pushed their work almost entirely online, hastening a process of bringing services online that was already in progress.
"We've all been shut down but our job doesn't stop," said Chaplain Maj. Michael Smith, SOCAFRICA chaplain. "The chaplain's office is very relational and conversational. For all of that to be removed; we had to be out of the box to continue to reach out and touch our Soldiers and families."
The SOCAFRICA chaplain's mission doesn't end in Stuttgart. Like all parts of this geographically-focused command, the Chaplain must look south to assist and enable African partners who are facing the same invisible enemy, in addition to violent extremist organizations. Smith has only been the Chaplain for SOCAFRICA for about a year, but the Green Beret hasn't wasted any time getting to know his African counterparts. One of Smith's closest relationships on the continent is the Chaplain Corps of the armed forces of Burkina Faso.
"The AFRICOM chaplain and I met [Chaplain Bonkoungou] at a state partnership conference in September of 2019," Smith said. "We developed our relationship and stayed in touch through email and text, and he invited us to visit Burkina Faso to provide training and key leader engagement in January. We were planning on returning again in April with a full, mobile-training team, consisting of Catholic, Muslim and Protestant chaplains and our SOCOM chaplain, but COVID hit and that couldn't happen."
Smith said Burkina Faso has a small, but developed chaplain corps with a daunting mission. The 10 chaplains are charged with administering care to a religiously diverse military spread across a space about the size of Colorado. Burkinabe security forces regularly engage in combat with violent extremist organizations in areas inaccessible to chaplains.
The challenges are truly enormous," said Chaplain Colonel Dakiswende Etienne Bonkoungou, Senior Chaplain for Burkinabe Military Forces. "We do not have much of a budget for anything, to include travel. We get to our troops when transportation is made available, but the necessity is so much greater than what we can provide."
When COVID-19 restrictions were enacted in March, Smith said he knew his Burkinabe counterparts' problems were not going away – they were compounding. Back in Stuttgart, Smith moved his efforts to look after SOCAFRICA personnel online. He began producing regularly released videos on his iPad for the SOCAFRICA community and posting them online, which he shared with Chaplain Bonkoungou.
"We couldn't allow our relationship and co-development with the Burkinabe to stagnate, so we decided to continue that part of our mission virtually, as well," Smith said. "We needed to keep that positive momentum. The major hurdle was communication, since the Burkinabe military doesn't have that technology readily available."
Working with a non-government organization, the team procured an iPad for each Burkinabe Chaplain. U.S. Special Operations Forces on an unrelated trip transported the devices down and issued them to each Burkinabe chaplain. The results were immediate.
"You can tell how much the US and SOCAFRICA wants to support us by how much they spent to send us an iPad," one of the Burkinabe chaplains commented through an interpreter.
Smith and his team have been holding online classes with tips and experience-sharing to bring the Burkinabe chaplain corps up to speed on a set of skills required for online ministry, which he only recently began to grasp.
"We see this as adding resilience to an entire force," Smith said. "Across Africa, religious leaders have a high level of influence. Chaplains are teaching Law of Armed Conflict, ethics, and proper behavior. Chaplains are an African military's moral compass, even as much as their military's legal personnel."
Burkina Faso has three denominations of chaplain: Catholic, Muslim and Protestant.
"Their Muslim chaplains get the same respect as the Protestant and Catholic," Smith said. "They all work hand in hand. Having increased connectivity can virtually put the appropriate one of them in the right place at the right time. It's the same as we are, it doesn't matter which chaplain you put in front of the problem, we all have the same end goal."
Bonkoungou also highlighted the similarities between the denominations of chaplains, especially those who have experienced the stresses put upon their troops by direct combat.
"One universal truth occurs in the military due to the presence of chaplains who work as close as possible to the fighting," Bonkoungou said. "Being around death, being exposed to wounds, killing or injuring other people strikes the minds, attacks the psyche, worries souls. Chaplains must support hearts, minds and souls. Any way we can equip them to overcome these challenges is necessary and appropriate."