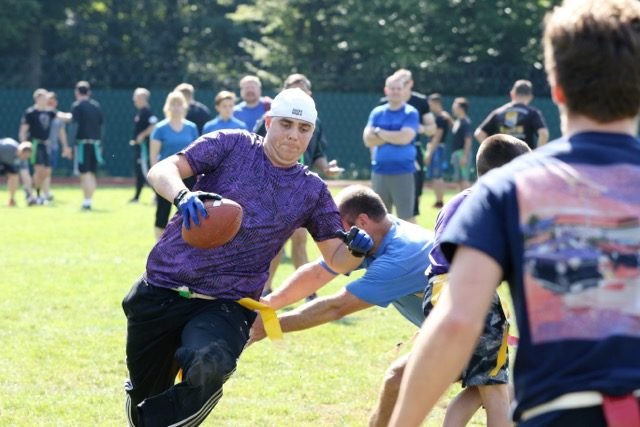 By Petty Officer 2nd Class Dominique J. Shelton
AFRICOM Public Affairs
Members assigned to U.S. Africa Command and their families gathered at Cooper Field, Kelley Barracks, for the seventh annual AFRICOM Olympics, Sept. 22.
The AFRICOM Olympics provides an opportunity for staff members from AFRICOM, Special Operation Command Africa (SOCAFRICA) and Marine Forces Africa (MARFORAF) to build camaraderie among military personnel, Department of Defense and Interagency civilians, and their family members while enjoying games, fun events, food and other social activities.
"Events like AFRICOM Olympics are important because they help to build camaraderie and bring together all of the different directorates," said Lt. Col. Guy Wetzel, event planner and member of J2 directorate. "It's not often that you get a chance to see all of the people from the different directorates interacting with one another, so this is where we do that."
Teams from each directorate competed against each other with a winner recognized at the end of the day. For the fourth year in a row, MARFORAF took home the top prize and bragging rights for the next year. The AFRICOM J3 took second place and the AFRICOM J5 placed third. SOCAFRICA won the spirit award, which is awarded to the team with the most enthusiasm, team spirit and sportsmanship.
"I love coming out to AFRICOM Olympics because there are so many people to meet and great games to play," said Olivia Wanchick, dodgeball participant.
Groups and organizations such as the AFRICOM Family Readiness Group, Army Substance Abuse Program,  Warrior Pride Challenge, Army Community Service, Warrior Transition Unit, Better Opportunities for Single Service members, USO, the American Red Cross and the Community Bank set up tents to entertain children and inform visitors of the many services they offer.