By Holly DeCarlo-White
USAG Stuttgart Public Affairs
Army Family Team Building is back!  
Stuttgart's Army Community Service (ACS) is re-launching 30 classes beginning in October as part of the Army Family Team Building (AFTB) family training and readiness program.
As U.S. Army Garrison Stuttgart serves all branches of service, AFTB classes and activities can assist community members to gain a better understanding of the Army culture, as well as the skills and resources needed to become resilient, self-sufficient and self-reliant members of any military community.
"AFTB is designed so people, especially newcomers in the military, don't have to go through the trenches…they can adjust and grow with the military," said Anna Maria Vestal, ACS coordinator and AFTB core instructor.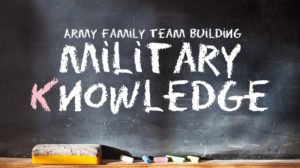 What is Army Family Team Building?
AFTB became an official Army program in 1994 with the goal to empower military community members through self-development, leadership skills, basic Army knowledge and specialized training in order to maximize personal and professional potential.
Through a series of classes taught by ACS certified AFTB instructors, regularly scheduled sessions are available to all ID cardholders on Panzer Kaserne. Units can also arrange to have instructors come to their location in Stuttgart.
Why should I attend AFTB classes?
AFTB helps to not just cope with, but understand and enjoy the military lifestyle.  Many of the courses apply toward resume and career building, self-development and leadership skills. AFTB provides people with the knowledge and self-confidence to take responsibility into their own hands, for themselves and their families.
Military families have always helped each other succeed. Family preparedness and self-reliance are important any service members mission readiness giving him/her confidence that their family can manage their lives successfully regardless of their duty station or the mission ahead.
AFTB specialized training encourages individuals to maximize their personal growth and professional development adapting to the transforming military environment.
AFTB helps to provide a consistent base of knowledge to improve personal and family preparedness. Classes cover topics such as basic information about the Army, personal growth, and leadership skills to enhance the communities overall awareness and readiness.
What AFTB class series should I attend?
Community members, including contractors, can attend any of the free classes in any order they wish that meets their personal or professional priorities. There are three class series from basic to advanced college-level: knowledge, growth and leadership.
Class Series 1: Military Knowledge
"These classes teach a person how to navigate the military environment," Vestal said. "They cover everything a person needs when getting to get to know the military environment whether you are active duty, a civilian, a contract employee or spouse."
Attendees learn how to maneuver through daily challenges by discovering how to decipher Army acronyms, understand rank structure, utilize community resources, and understand the goal and impact of the Army mission on daily life.
Class Series 2: Personal Growth and Resiliency
"These classes go beyond Master Resiliency training," Vestal said. "Now that you can navigate services, here is how to make yourself more resilient."
Attendees learn how to improve personal relationships, communication and stress-management skills. Discover how teams form and grow, how to solve problems, and how to resolve personal conflict. Attendees also learn about Army traditions, customs, courtesies and protocol.
Class Series 3: Leadership Development
"These college level classes teach you to become a good leader in a military or civilian profession and learn how to take care of people." Vestal said.
Attendees expand their leadership skills and effective communication techniques and learn to mentor others into leadership positions. Learn about the different leadership styles, how to run an effective meeting and improve time management skills, how to manage group conflict, and how to coach and mentor others.
Upcoming AFTB Events
Oct 2: Bingo Night
The first AFTB event is a Bingo Night hosted in partnership with the USO, Oct. 2 from 6-7:30 p.m., at the USO Center in Building 2915, third floor on Panzer Kaserne.  This activity focuses on Army terminology, military terms, acronyms, ranks, and more. AFTB classes and events are free to all DOD ID cardholders and contractors.
Additional events will be held at ACS, Building 2915 on Panzer Kaserne on the following dates:
Oct 18: Change Can Be Good
Not all changes in life are bad. This class, Oct 18 from 11:30 a.m. – 1 p.m., combines two classes — "Growing Through Change" and "Overcoming Stress."  Attendees will discuss principles of change, how to transition from being a change victim to a change master, and will practice some stress management techniques.
Nov. 15:  Military Life 101
Find out everything you need to know to be a part of this military life during a free seminar event, Nov. 15 from 8 a.m. to 3:30 p.m. This day-long seminar teaches all classes in the Knowledge (K) level. Topics include the impact of the mission on family life, setting realistic expectations, military family preparedness, military and civilian resources, basics of resiliency, and much more.  Students will receive a certificate of completion of the Knowledge level at the end of the seminar.
Nov 20: Military Customs & Courtesies in Social Functions
Learn proper military protocol, Nov 20 from 1:30 p.m. – 1 p.m. With the holidays approaching and many events happening in the community, this is the perfect class to attend and learn about expected protocol at various events. This session merges two classes — "Customs, Courtesies, Traditions, & Protocol" and "Military Social Functions."  Attendees will learn about different military functions and the proper etiquette for each.
Dec. 6: Personal Growth & Resiliency
This day-long seminar, Dec. 6 from 8 a.m. to 3:30 p.m. explores principals of all the classes in the Growth (G) level. Attendees will explore principals of conflict management, communication, time management resiliency during crisis and grief, team dynamics, making a difference through volunteering and more.
For the full schedule of AFTB training and events, contact ACS at DSN: 431-3362/civ. 7031-15-3362 or visit https://stuttgart.armymwr.com.
AFTB is a volunteer-supported Department of the Army training program. To volunteer or apply to become an instructor, contact Anna Maria Vestal at ACS at DSN: 431-3362/civ. 7031-15-3362.