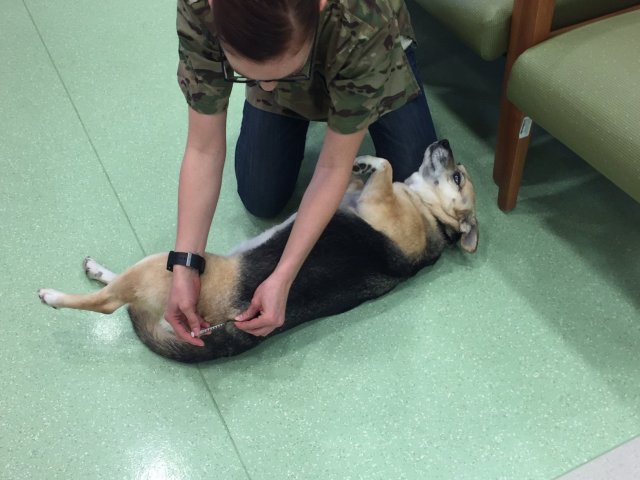 by John Reese
USAG Stuttgart Public Affairs
The Stuttgart Veterinary Clinic on Panzer Kaserne is holding a clinic for all military community members with cats and dogs to receive rabies shots – and whatever other needs pet owners have – today, Sept. 28, in conjunction with World Rabies Day.
"Many times, it's hard for people to get on the schedule, to get an appointment, but today we're opening up that schedule so that others can take advantage, until 2 p.m. today," said Staff Sgt. James Butler, clinic noncommissioned officer in charge.
Since World Rabies Day is internationally recognized, the veterinary clinic used the opportunity to bring greater awareness to the community, Butler said.
While Germany is considered a rabies-free country, and U.S. states and counties have varying rules on rabies vaccinations, garrison pet owners should still take advantage of the Army's policy of pets receiving a rabies shot every three years.
"The reason it's important for service members and their families to get their pets rabies shots is because all who need to PCS must have an updated rabies shot in order to depart the country," Butler said.
Normally a rabies shot and an examination costs authorized clinic pet owners a total of $27, said Sgt. Angela Safely, Stuttgart Veterinary Clinic.
"A shot is $10, and then we do an examination fee which is $15, plus a $2 users fee, so altogether it's $27," Safely explained.
The clinic is in Bldg 2996A, Panzer Kaserne.