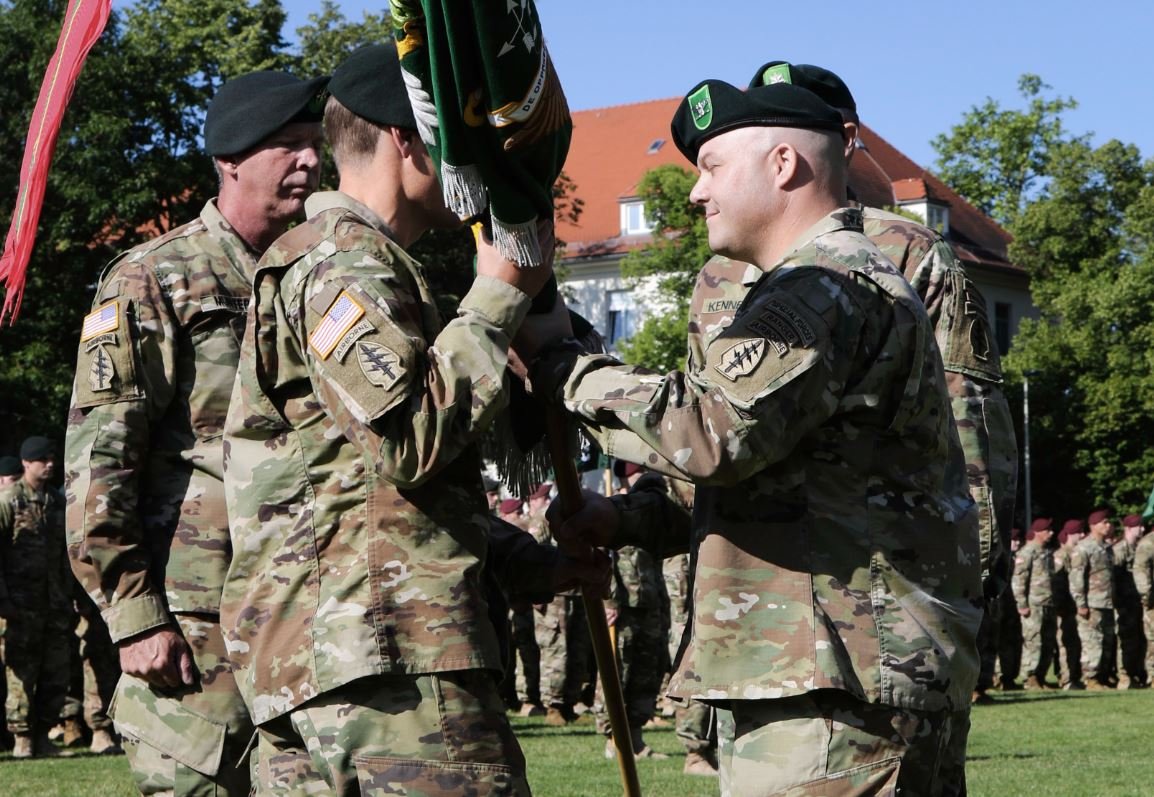 Story by Staff Sgt. Larraine Whetstone
U.S. Special Operations Command Europe
The 1st Battalion 10th Special Forces Group (Airborne) welcomed a new commander at Panzer Kaserne 1-10th parade field July 7.
Lt. Col. Joshua C. Kennedy, outgoing commander, 1st Bn. 10th SFG (A), relinquished command to Lt. Col. Andrew R. Ries, the incoming battalion commander.
"Thank you for joining us as we pass the torch between two extraordinary special forces officers, between two leaders whose selfless dedication and service is emblematic of this command and its people," said Col. Isaac J. Peltier, commander of 10th SFG (A).
Ries was commissioned as an infantry officer upon graduating from Western Oregon University in 1998. He graduated the Special Forces Operation Course in 2003 and assigned to 1st Bn., 10th SFG (A) in Stuttgart, Germany. During his career Ries was selected for the United States Special Operations Command Legislative Fellowship in Washington D.C. serving as a congressional liaison. He also served as a company commander and battalion operations officer in 4th Bn., 1st SFG (A) at Joint Base Lewis-McChord, Washington in 2011 to 2013.
"I am incredibly honored to be standing here now as the 24th commander of this battalion," stated Ries. "Much has changed since I left, but the most important things has remained the same. This and always will be a unique battalion not just within Special Forces, but within the Army."
As Ries takes over command, Kennedy's follow-on assignment is at the U.S. Army War College at Carlisle Barracks, Pennsylvania.
1st Bn. 10th SFG (A) is one of two forward stationed battalions within Special Forces tracing its history to 10th SFG (A) establishment in Bad Tolz, Germany in 1953. 1st Bn. 10th SFG (A) moved Panzer Kaserne on Aug 1991 where it is still based today.