By Brian Pappas, School Liaison Officer
Welcome to USAG Stuttgart! My goal as a School Liaison Officer is to help ease school-related transitions for incoming families. I hope the information below helps to point you in the right direction, and look forward to answering any questions that arise.
DoDEA schools in the Stuttgart military community area include three elementary schools, one middle school and one high school. Elementary schools are separated into three distinct zones, and enrollment is determined by where you live and eligibility category. School zone maps are available at the school liaison office.
Online pre-registration is highly recommended, and begins at: https://www.dodea.edu/registration-process.cfm. This site also explains DoDEA eligibility categories — Active Duty, Reservist, DOD Civilian, Contractor. These categories do have a significant impact on the enrollment process. If your child is eligible on a Space Available basis, some factors that influence the approval process include current enrollment data, enrollment projections, and IEP/504 plan related services.
Final enrollment occurs AFTER arrival and is coordinated directly with the school registrar. Required documents include: sponsor's orders; birth certificate (K-2); immunization record; physical address; local emergency contact information; school records (in sealed envelope, or requested directly by the school registrar), and school-specific documents.
Please note that there are currently elementary school zone exceptions for some hotels in the area. The School Liaison Office, transportation office, or schools can provide the most current zone exceptions.
Other schooling possibilities include homeschooling, German schools, or international schools. Please contact the school liaison office directly if you are interested in any of these options.
If you have other questions or concerns, or if there is anything that the School Liaison Office can do to help ease your transition to USAG Stuttgart, please do not hesitate to contact me at usarmy.stuttgart.id-europe.list.slo@army.mil.
I look forward to hearing from you, and will be happy to connect you with our schools and community.
Telephone: DSN: 596-9009
CIV: (0)9641-70-596-9009
Need to register your student in the Stuttgart community's DoDEA schools?
Follow the process below, starting with Online Registration (click the image to enlarge):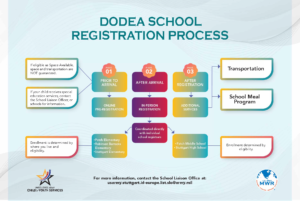 Questions? Contact our School Liaison Officer using the information on this page.