Story and photos by Bardia Khajenoori
USAG Stuttgart Public Affairs
Editor's Note: A version of this story was first published in the 2nd Quarter 2023 Stuttgart Citizen Magazine. Festivals/events taking place prior to July have been removed, additional events have been added, and the online version has been adapted for better readability.
---
The Stuttgart region loves its festivals, but when it comes to frequency and diversity, there's no time quite like the summer.
From music festivals to showcases of food and world culture, the options are endless. This rundown divides a wide selection of events into three general categories with some degree of overlap.
Consider using public transit to get to these events due to busy or closed roads, limited nearby parking, and ensuring safety after drinking. Always plan your way home prior to attending festivals and special events, and never drink and drive. Apps such as VVS Mobil, SSB Move, and DB Navigator offer customized door-to-door public transit routing and the ability to buy tickets on your mobile device.
Credit cards are increasingly accepted at vendor booths, but it's still a good idea to have enough cash to cover intended purchases.
Aside from the largest events, most informational websites are only in German, so using a free translation app or browser extension will help to make most things roughly understandable. While many activities will, of course, also be in German, don't feel intimidated — dancing, music, fireworks, and food transcend languages.
Be aware that when purchasing food and drinks from vendors, you will likely be charged a pfand (deposit) of €2-5 per item for the drink glass and/or plates in addition to the listed price of the item. This will be refunded to you after you return the plate/glass. In some cases, as small plastic chip or token may also be handed to you as part of the deposit process; if this happens, keep it and return it with the items.
This list is provided solely for informational/cultural awareness purposes; inclusion of an event does not imply endorsement, and many other events are taking place which are not listed. Look out for signs and posters in your neighborhood to discover more.
City/Neighborhood Festivals
Most local towns and villages host at least one marquee street festival in the summertime, as do most districts of Stuttgart. These events typically feature live music or DJs and stages for artistic performances along with activities for children. They are open access and have no admission fee, with a wide selection of food, drinks, and other products available for sale from vendors. When they take place in a town center over a Sunday, the day is often (but not always) designated as a special "Shopping Sunday," with nearby stores open for business.
July is a busy month for neighborhood festivals in Stuttgart. Highlights include:
In the region:
July 7-8: Nürtingen Neckarfest

transforms the city's riverfront into a cultural hub.

July 9: Böblingen District Citizen's Festival: The Böblingen District will celebrate its 50th birthday with a festival on the Flugfeld between Böblingen and Sindelfingen. Various public agencies such as the fire department, Polizei, and refuse collection will be onsite with their vehicles, and activities such as bouncy castles and face painting will be open for children.
July 14-16: Herrenberg city festival, which takes place on the market square and closes out the "Summer Colors" cultural festival.
July 14-18: SchoWo

, or

Schorndorf Week

, offers more than 100 activities over five days across the birth city of pioneering engineer and industrialist Gottlieb Daimler.

July 14-15: The City Festival of Tübingen features live music, dance, and demonstrations throughout the Old Town of this charming academic hub.
Arts, Culture, and Dining
Stuttgart:
July 7-9: The Afrika Festival returns to Erwin-Schöttle-Platz for the first time in three years with food, fashion shows, concerts, an African market, and more.

Large salmon filets cook around an open wooden fire in the "Flammlachs" stand at the Hamburg Fish Market in Stuttgart.

July 6-16:

The 34th

Hamburg Fish Market

at Karlsplatz

 helps fill the fish-sized void in landlocked Stuttgart's culinary scene for ten days each year – but vendors also offer plenty of other options (including sweets and desserts), and its party atmosphere attracts visitors from far and wide.

July 11-16: Summer Festival of Cultures

, with its stage set up prominently on Marktplatz, is southern Germany's largest world music festival and celebrates Stuttgart's diversity with an eclectic array of musical and other performances. Food stalls run by local clubs dish out numerous types of homemade food, ranging from Kurdish and Eritrean to Peruvian and Hungarian.

Aug. 3-5: "Genusstage um die Markthalle" (Days of Enjoyment around the Market Hall) replaces the former Summer Festival which was held between the Neues Schloss and the Opera House. Numerous food and drink stands, as well as entertainment, are planned for the Dortheen Quarter from Thursday to Saturday.

The mainstage of the International Festival of Cultures at Marktplatz.

Aug. 11-14 (moved from Aug. 4-6): The Lateinamerikanisches Wochenende (Latin American Weekend) is a traveling festival which will make its annual visit to Stuttgart at the Phoenixhalle, in Bad Cannstatt's Römerkastell, in early August. DJs will provide music for a lively atmosphere of dancing, food, culture, and handmade artisan goods for sale. The site of the former Roman fort was also used by the U.S. Army as Wallace Barracks until 1992.
Aug. 25-27: For nearly 40 years, the "Laboratorium" cultural center in Stuttgart-Ost has held a "Lab-Festival" with curated live music, food, drinks, and a market. This year, the festival will be held at the Berger Festplatz, near the Mineralbäder U-Bahn stop in the lower Schlossgarden.
Aug. 30 – Sept. 10: Weindorf (Wine Village) Stuttgart converts Schillerplatz, Marktplatz, and the street between them into a sea of quaint pop-up stalls and restaurants showcasing wine from local vineyards and the best of regional cuisine.

Acrobats entertain a crowd at Stuttgart's Weindorf.
Region:
Special Events
Stuttgart:
Region:
Aug. 19: Ludwigsburg Palace's baroque gardens are home to the Lichterzauber (Magic of Lights), with various activities such as lantern making and the launching of model ships on the South Garden lake leading into a lantern procession and fireworks display. An accompanying musical program promises the "Best of Street Music."

Professional teams invited from around the world light up the night sky at Ostfildern's annual fireworks festival/competition.

Aug. 25-27: Flammende Sterne (Flaming Stars), held in Ostfildern's Scharnhauser Park, is an international fireworks competition where invited teams wow audiences with impressive displays synchronized to music. The event also includes laser light shows, street art, and a festival market with abundant food and drinks. As a historical note, this site has been redeveloped from the former Nellingen Barracks, which formed part of the Stuttgart military community from 1945 to 1992.
Evening Markets (Abendmärkte)
Evening markets take place in four Stuttgart neighborhoods from the end of May through mid-August, each on a particular day of the week, through Aug. 20. They are free to attend and offer live entertainment. Food, drinks, and market-style goods are available for purchase, and local businesses and leisure clubs set up stands to provide information about their services or activities.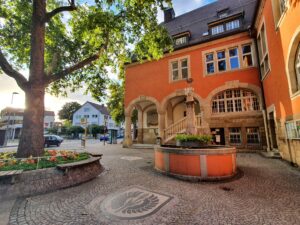 Bad Cannstatt (Marktplatz)

Fridays from 5 – 10 p.m.
Close to Robinson Barracks

Vaihingen (Rathausplatz)

Saturdays from 5 – 11 p.m.
Close to Patch Barracks

Stammheim (Kirchplatz)

Wednesdays from 5 – 10 p.m.

Untertürkheim (Train Station)

Thursdays from 5 – 10 p.m.