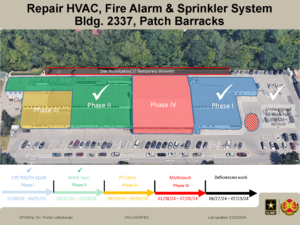 By USAG Stuttgart Public Affairs
Repairs to the Patch Gym will begin next week. On Monday, Nov. 28, approximately 40 parking spots behind the building will be closed until project completion in 2024.
During phase one there will be no effects on gym space. However patrons of the 'Hub' (The CYS Youth Center) will be temporarily relocated to building 2332 until mid-February. Then beginning late March repair work is expected on the gym-portion of the building. Staff will plan to minimize internal closures and relocate equipment as needed to ensure maximum capacity. There will be no full closure of the gym.
Additionally, 20 parking spaces will be temporarily closed for repair work on the sprinkler tank at a later, not yet determined date. (See image below)
We understand the inconvenience and appreciate your patience as we complete these necessary repairs.