By Bardia Khajenoori
USAG Stuttgart Public Affairs
Public transit agencies across Germany are taking customer orders for a new public transit ticket which offers nationwide validity at a lower cost than any existing transit subscription for the Stuttgart area alone.
The Deutschlandticket, now confirmed to begin May 1, offers unlimited use of local trains and buses throughout Germany at a price of €49 per month, charged as a subscription which is cancellable on a monthly basis. It was developed by the German federal and state governments as an enduring follow-up to the highly popular but temporary "9-Euro-Ticket" offered from June-August 2022.
The ticket – which is only offered in "paperless" form via smartphone or chip card – is valid for all types of local and regional public transit, including buses, S-Bahn, U-Bahn, and non-long distance trains (with prefixes RB, RE, IRE, and MEX) across the country. This also includes the 'Zacke' (rack railway) and Seilbahn (historic cable car) in Stuttgart, both of which are operated by the city's transit company (SSB), and ferries operated by the local transit company in cities such as Berlin and Hamburg.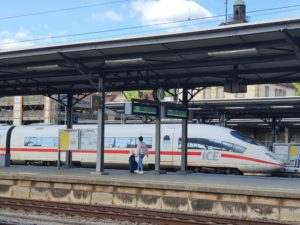 They are not valid for travel on long distance trains (with prefixes ICE, IC, EC, or the Flixtrain) or long distance buses (such as Flixbus). One exception is trains running on the Stuttgart-Singen-Konstanz route, which also stop in Böblingen and Sindelfingen. Trains on this route are labeled as both IC and RE, so tickets for local and regional transit are valid here.
The Deutschlandticket is normally tied to an individual but can be offered as a 'TicketPlus' for an additional monthly charge. A 'TicketPlus' offers perks valid only within the VVS (Stuttgart region public transit) service area such as transferability to another person and the ability to take children or a companion with you at certain times for free.
While there is no age restriction on the Deutschlandticket, children under 6 travel for free in Deutsche Bahn (DB) trains and in Stuttgart regional transit, so they do not need their own tickets. Children aged 6-14 require their own tickets.
Statewide ticket also offered for youth
A new type of youth subscription, called the JugendTicketBW, was introduced in March 2023, at a cost of €365 per person, per year. 
The ticket can be purchased for children and young people aged 20 and younger with only proof of age, but is valid only within the state of Baden-Württemberg. It is available initially as a one-year subscription but can be canceled on a monthly basis after that period. The ticket is also available to people up to age 26 who remain students, trainees, or fall into another qualifying category.
Day tickets still available
Two special day tickets sold by DB offer the Deutschlandticket's flexibility without its commitment.
The Baden-Württemberg ticket applies to regional transit, not IC or ICE trains, and your usage must begin after 9 a.m. on weekdays; it is valid all day on weekends and German holidays. This ticket is perfect for day trips on regional trains and the S-Bahn/local transit for solo travel or with a group of friends within Baden-Württemberg (going outside the VVS service area). Make sure your train will arrive before the ticket expires.
The Quer-durchs-Land (across the country) ticket offers unlimited regional train travel for one day throughout Germany. Like the BW Ticket, it can be good for up to five people. This type of ticket also does not include travel on true "long distance" trains like the ICE – traveling to Berlin on this ticket from Stuttgart, for example, would take 10-11 hours and multiple changes.
Where should you go?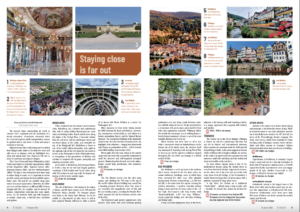 If you need ideas on putting your ticket to good use, visit the "Things to Do" menu in the USAG Stuttgart mobile app and tap "Stuttgart Area Day Trips" for a selection of nearby destinations reachable using local and regional public transit (i.e., the types allowed using any of the tickets described on this page) in two hours or less. The same article, originally from the Summer 2022 Stuttgart Citizen travel issue, is available here.
Purchase points
The Deutschlandticket and JugendTicketBW are not available from ticket machines, but can be purchased online/via mobile app, at DB travel centers, and VVS and SSB customer centers in the Stuttgart region.
The Baden-Württemberg ticket and Quer-durchs-Land can be purchased through the DB Navigator mobile app or from station ticket machines and sales desks.
Learn more (in German)