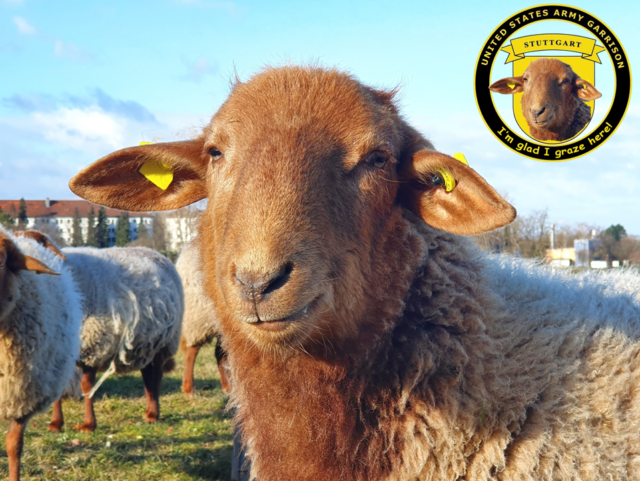 APRIL 1, 2023 — U.S. Army Garrison Stuttgart officials today announced Günther von Robinson, a longtime resident of Robinson Barracks, as the garrison's new official mascot and spokessheep at an Apr. 1 press conference.
"Günther's roots in this community run deep, and I've appreciated his support and counsel throughout my time here," said Col. Matt Ziglar, USAG Stuttgart commander. "I'm very happy we're able to formally recognize and pay tribute to him with this move."
von Robinson spoke exclusively to the Stuttgart Citizen to provide his reaction: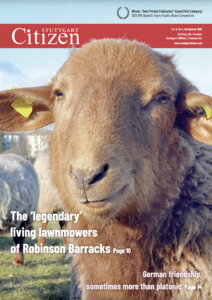 Congratulations, Günther. How does it feel to, first, grace the cover of the Stuttgart Citizen magazine, and now, to be unveiled as the garrison's new mascot?
Thank ewe! I was in shear disbelief when I found out. I'm proud to represent not only my home on Robinson Baaaarracks, but the whole garrison.
Since the magazine came out, a few more people have asked for autographs, but it turns out a lot of folks who don't come by RB too often didn't realize that sheep usually live here too, and have for decades. I was most excited that we were recognized for our hard work and contributions to the community over the years.
You were actually born here on RB, and at ten years old, are one of the elder statesmen of the herd. What's it been like?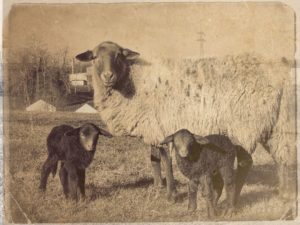 That's right – the name Günther means 'warrior,' which made sense since I was born on an Army post. Most of our battles are with grass that tries to grow too high, but we've been doing this job for a lawn time and are very on top of it. When we need to decompress, some of the herd watch shows like Graze Anatomy or listen to songs like Fleece Navidad.
We love the people, though, especially when they come and sit with us and take photos and give us treats (a lot more organic these days). The post has changed over time, but our neighbors' kindness and excitement hasn't.
Are you excited about the multi-billion dollar Skyway, announced this same day last year, which will connect all the Stuttgart installations via open-air chairlift within the century?
We've heard the grass is greener on the other side, so of course we're interested in checking that out. The Skyway will be a big help for us to get around and explore in a way we can't now, as long as they build the RB station within our pen, and move it as the pen does.
Do you plan to work closely with Stuttgart's horse mascot on areas of mutual interest?
I look forward to building a pleasant, neigh, productive working relationship with one of the area's other prominent animal mascots and hope to have it join me in studio on AFN very soon.
Are you supporting anyone in the Community Bracket Challenge, happening now on the garrison's Facebook page?
Wool, only one of the final contenders lends its name to a nice sheep pun, but obviously, as the garrison's official mascot and spokessheep, I can't take sides. I hope I don't get lamb-basted for saying this, but I think we're all winners.