Commentary by Megan Brown
Special to The Citizen
Editor's Note: Megan Brown is a Stuttgart High School career practicum intern for the USAG Stuttgart Public Affairs Office.
 As I prepare to head off to the U.S. for college and leave the Stuttgart community, I reflect on the fond memories I have made over the past two years. I have grown from a wide-eyed 16 year old, into an almost 18 year old who has mastered the S-Bahn and become a pro at ordering brats in the native tongue. In honor of being a part of the class of 2016, I have decided to write about the top 16 German experiences I have had while living in Germany.  These experiences  they are what remains most vivid in my memories as I say Auf Wiedersehen one last time.
1. The world largest pig museum
The Schweinemuseum was one of my first experiences when I moved to Germany, and with over 50,000 pig items and 25 rooms, it's just crazy enough to be at the top of my list. Even though it held everything from piggy banks to pig stuffed animals, what I truly loved was the owner's dedication to the collection, and the obscurity of the museum.
For more information,  visit https://int.stuttgart-tourist.de/en/a-pig-museum or the museum website (in German only) http://www.schweinemuseum.de.
2. The elevator that never stops moving
Downtown in the Rathaus or city hall, there is an original revolving elevator called a paternoster lift that is the reason for my newfound fear of elevators. The concept is simple, hop on and hop off, if you forget to hop off  however, the elevator switches tracks in complete darkness. It is an experience everyone must try at least once.
3. Eating a pretzel the size of my head
I love American fast food as much as the next person, but one thing I will miss dearly is German pretzels the size of my head, especially when they are slathered with butter.
4. 3D Mini Golf
3D black-light indoor mini golfing at Simigo is just as it sounds, wearing 3D glasses and playing mini golf, but don't let the title fool you. Inside, all sense of perception will probably be lost, and tripping multiple times is a given. Even finding the ball to begin the game, is a struggle.
Read more about it in this article: http://militaryingermany.com/blacklight-mini-golf-near-ludwigsburg.
http://militaryingermany.com/blacklight-mini-golf-near-ludwigsburg
5. Ropes course
The ropes course is one of the most fun, yet painful things I have done in Germany. From zip lining in the trees, to actually climbing the trees, the ropes course tested every piece of my endurance, and I loved it. But heed the warning; you will probably be sore the next day.
There are several ropes courses throughout Baden Wurtemberg. Waldklettergarten, meaning "Forest Climbing Garden" ropes course is just one example located in Stuttgart-Zuffenhausen you can search for. Visit their website, (German only) http://www.waldklettergarten-stuttgart.de.
6. The four-story fun-house at fest
One of the best parts about living in Germany is that safety regulations are more relaxed here than in America, so the rides are outrageous at the fests like Spring Fest, or Frühlingsfest.  Even considering all the fun rides, the best attraction at the fest in my opinion, is going through the fun house where you have to walk on spinning platforms and go down a candy cane looking slide.
For information on the big spring and fall fests, visit http://wasen.de.
7. Europa Park Horror Nights
Europa Park is fun for all ages. During horror nights, activities consist of walking through through tents with people dressed in full costume, like clowns and other Halloween favorites. My favorite was the guy with a chainsaw who chases people standing in line. I have never been so scared in all my life.
For information on Europa Park's special events, visit http://www.europapark.de/en/park/events.
8. Fasching
Fasching, in my opinion, is the best time of the year. By February, the weather starts to warm up (a little bit), and the parades provide hours of unique and free entertainment. Members of the parade, called the Naren, known as the "fools" of the fest, scope out and take belongings such as shoes and hats from the parade viewing audience, and they will not hesitate to draw on your face too. Nonetheless, it's a good time for all those who attend.
To learn more about Fasching, visit the Culture and Leisure section at www.stuttgartcitizen.com.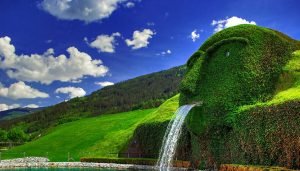 9. Swarovski Crystal Worldsin Austria

The Swarovski Kristallwelten is more than a large museum and store of crystals marked over my price range. The outdoor maze, surrounded by hedges after the tour was my favorite part.
For more information and museum ticket pricing, visit http://kristallwelten.swarovski.com/Content.Node/wattens/index.en.html.
10. Ramstein
The first time visiting the Kaiserslautern Military Community Center, or KMCC, I experienced culture shock. There were so many American food restaurants and the selection in the Exchange alone, it was astonishing compared to Stuttgart. Plus, I enjoy climbing the rock wall with my friends by the Outdoor Recreation there.
Stuttgart's Family and Morale Welfare and Recreation, occasionally offers shopping trips to Ramstein. Visit http://stuttgart.armymwr.com/europe/stuttgart for scheduled events and trips.
11. The German Movie Theater
The Corso is a German movie theater featuring a schedule of international movies in English near Patch Barracks in Vaihingen.  Although it's small, the homey feel it presents is intriguing. Plus, there are plenty of American snacks to munch on during the movie.
For more information, visit http://www.corso-kino.de.
12. Indoor Water Park Berlin 
When the weather outside only seemed to be getting worse, my family planned a weekend trip to Berlin to visit Tropical Islands, an indoor water park. With a beach, flamingos, two pools, many water slides, and a nice 75-degree temperature, the water park was just what we needed to lift our spirits during the dreary winter.
For more information, visit https://www.tropical-islands.de/en/.
13. Salt Mines in Austria

While the mines are in actually in Austria, due to Stuttgart's close proximity, the trip can be taken in a day by car. Dress in miner gear and explore the depths of hidden caves, along the way by train, boat, and even a slide. Don't forget to watch the light show at the end.
For information on Salt Mine Berchtesgaden, visit: http://www.salzburg.info/en/sights/excursions/salt_mine_berchtesgaden.
14. Slow Food Fair
The Slow Food Fair, or Slow Food Messe, held during the spring in Stuttgart offers everything and for food lovers. Not only can you stuff yourself full of free samples, you can also buy anything from meat, to jam, bread and cheese from the different vendors.
For more information, visit (in German only) http://www.messe-stuttgart.de/en/marktdesgutengeschmacks.
15. American Forces Network (AFN) Commercials
Among my favorites are the Post 9-11 GI Bill and the one about the Styrofoam cup to promote recycling. American commercials are good, but I will miss the cheesiness of AFN television and radio commercials.
16. Barefoot Parks
The Barefoot Park is one of my first memories, walking through a park barefoot over all different terrains such as mud, rocks, and even glass!
Information for these and other parks within Germany can be found at, http://www.barfusspark.info/en/park.
Enjoy the rest of your time in Germany, whether it's three months or three years, because sooner or later you will be saying Auf Wiedersehen Deutschland!