By Bardia Khajenoori
U.S. Army Garrison Stuttgart
Melissa Pros had taken part in her fair share of food, wine, and cocktail tastings in nearly seven years of exploring the food and cultural scenes of Stuttgart and Europe before the COVID-19 pandemic. But amid lockdown measures keeping these sectors shuttered for weeks or months on end, bars, restaurants, and cultural institutions have increasingly offered culture-seekers like her the chance to turn their living rooms into tasting rooms or lecture halls with web-based events.
"Businesses are struggling to cover expenses, without being able to operate normally," said Pros. Consequently, "they're now more open to hosting online events to deliver products and experiences to their patrons," including in English.
MWR Tours Manager Allison Lord knows that well, having worked with wineries in France, Italy, and the Stuttgart area to organize virtual tasting events for the community. "It's been a completely new experience for [the winemakers]" and "a brand new adventure for us," as well as for many participants.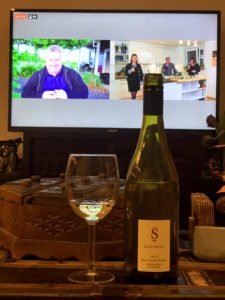 The virtual events have had an "overwhelmingly positive" response, said Lord. The idea is to offer the type of unique cultural experience that used to come from travel, while travel is not possible. "People are very excited to have something to look forward to on their calendars instead of every day being the same. It gives them the ability to share a common experience and interact socially, but at a safe distance."
Nonprofit cultural organizations have also had to find ways to continue their missions in alternative ways.
"We are an institution whose main goal is to bring people together, so the pandemic has had a huge effect on our programming. In a very short time, we went from all analog to all digital," said Katharina Buchter, who manages the Language Program and Communication Projects for the German-American Center/Deutsch-Amerikanisches Zentrum (DAZ) Stuttgart.
There are certain advantages to online events for attendees, she notes. "You can participate from the comfort of your own home and tune in wherever you are. There is no need to navigate traffic or public transportation to downtown Stuttgart…you don't have to rush after work, leave partners and relatives behind who cannot come along, or have to find a babysitter to make it in time or make it all."
Event organizers can benefit, too. With distance or room size no longer limiting factors, both attendees and presenters can join from anywhere—expanding not just audience size and availability of potential guests, but also an organization's geographic and demographic reach.
Of course, there are downsides for those who don't have devices or aren't technically adept, and it's not currently possible to linger after events and chat with panelists or like-minded audience members. An in-person speaker would not simply disappear due to technical issues, and some online events require more staffing from the DAZ than on-site ones, said Buchter.
But while the extraordinary conditions have forced cultural institutions and businesses to adapt, they have also offered some freedom to experiment.
Stuttgart's State Opera, which hadn't held a traditional opera ball in nearly twenty years, hosted a free immersive virtual event on February 16 complete with dance floors, a promenade and a variety of live bands. Newspaper headlines the next day described the event as a "mega hit" which received such enthusiastic responses that a follow-up story reported on popular support for restoring the in-person tradition.
Some museums have even taken to tailoring entire exhibits into digital experiences, such as the Württemberg State Museum in Stuttgart's Altes Schloss. Its special exhibition, "Fashion?! The Elements of Style," which opened in late October, has also been made available on the "Google Arts and Culture" app, with most of the content available in English. 
Although the current prevalence of virtual events may be a product of pandemic circumstances, organizers' positive experiences with producing them could reflect in programming choices even after "return to normal."
The DAZ, for example, which did not have fully online events at all until last year, "already know that we'll also include digital or hybrid programs in the future" to complement in-person events once it's safe to meet up again, said Buchter.
Some digital offerings may also be on the cards at MWR Tours in the future, which, as a tours office, was focused—up until the pandemic—on getting people out of the house and away from home. 
"We're exploring options for virtual events because I believe there's an interest," said Lord, noting that there are many reasons people might prefer to stay home on a particular night, even if there are no restrictions. "Busy parents can let their kids watch a movie in the next room while they focus on their virtual experience, a couple can enjoy a wine tasting at the same time without worrying about a designated driver, or sometimes it's just fun to put on stretchy pants and lay out on the couch."
But Lord, like so many others, longs for the return of having a choice.
"We can't wait to travel again. Hopefully, virtual experiences can fill the void for us in the meantime."