By Becca Castellano
U.S. Army Garrison Stuttgart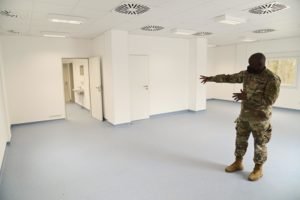 U.S. Army Health Clinic Stuttgart is preparing a new facility to add to their toolkit. A ribbon cutting ceremony is scheduled March 12, 2021, to usher in the new Acute Respiratory Clinic, or ARC, approximately 12 months after the clinic's first COVID-19 Case.
Once operational, the ARC will provide staff with a location separate from the health clinic to evaluate and assist patients with respiratory symptoms, said USAHC Stuttgart commander, Lt. Col. Maria Bruton. 
"This new space will allow our team to safely address any health-related concerns for patients with respiratory symptoms without exposing them to healthy patients and multiple staff members," she added. 
Currently, patients with acute respiratory symptoms are escorted through a separate entrance to isolation rooms in the main clinic where they can be treated. The new structures add four exam rooms and two waiting rooms outside of the regular clinic.
USAHC Stuttgart executive officer, Maj. Riliwan Ottun, said the two structures are designed to direct patients in and out of separate doors, to ensure adequate spacing between patient encounters. 
"The doors into and out of the exam room are equipped with negative pressured HVAC (heating, ventilation, and air conditioning) system to ensure that air within the exam room does not circulate into the rest of the structure," said Ottun. 
He added that patients who present with acute respiratory symptoms at the COVID-19 drive-through testing center or main clinic, will be directed to the ARC for further evaluation by a healthcare physician during duty hours.
U.S. Army Garrison Stuttgart's Deputy Director 3/5/7, Lt. Col. David McGurk, said the idea for the ARC was "born out of necessity" and initial planning began in late August. 
"With the winter months approaching, it was apparent we needed an additional resource managed by the health clinic, with adequate shelter from the elements and power and water to segregate those potentially afflicted by the coronavirus from the general population," said McGurk.
Organizations and commands across the garrison collaborated to bring the concept to life. From planning, to major Department of Public Works efforts, to the final medical certifications, McGurk said the success of the project "truly was a team effort."