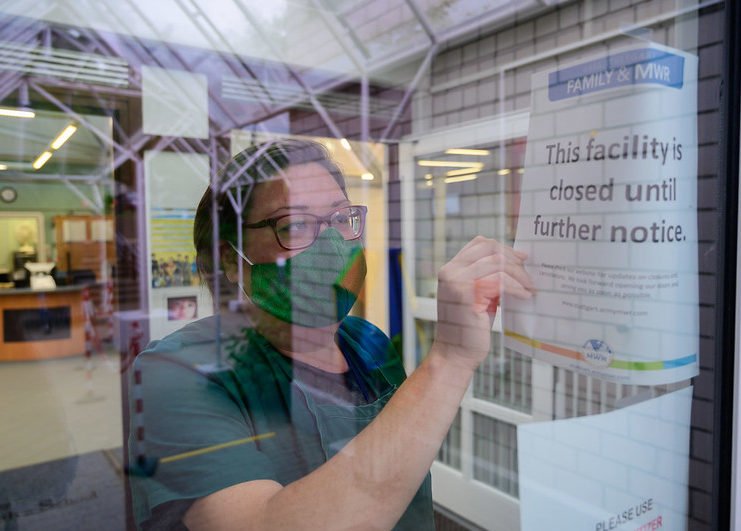 USAG Stuttgart Public Affairs
STUTTGART, Germany – U.S. Army Garrison Stuttgart will take responsibility for on-post re-opening decisions relative to host nation guidance pursuant to General Order 1D, released March 15, 2021, by Maj. Gen. Joseph Jarrard, U.S. Army Europe's Deputy Commanding General and senior responsible officer for USAG Stuttgart.
A roadmap agreed to by German federal and state leaders and implemented in Baden-Württemberg in early March directs restrictions to be rolled back on a local level (stadtkreis or landkreis).
To this end, USAG Stuttgart will make adjustments on its installations based on a deliberate assessment of its community infection trends and mitigation measures, rather than exclusively on those conditions in neighboring host nation communities.
This approach allows for the synchronization of operations and guidelines within a garrison footprint which spans multiple counties, and potentially different standards at any given time.
"Any changes we make will be in close coordination with state and local officials as we assess the best way to apply additional mitigations and reopen services," said Col. Jason Condrey, garrison commander.
In practice, this means that community members may see differences on the garrison as compared to the reopening status of surrounding German communities.
The garrison has robust prevention and response capabilities, more controls that offer the ability to trace the contacts of every positive case in the community and multiple avenues to address cases of non-compliance with Installation and Host Nation testing and quarantine protocols effectively.
GO-1C, dated March 5, 2020, is hereby rescinded, and GO-1D is effective immediately, the order states. The order applies to all U.S. Army Europe personnel at U.S. Army Garrison Stuttgart, as well as all service members, family members, Department of Defense civilian personnel, contractors, and others who are "present on, or seeking access to," USAG Stuttgart.
The general order reaffirms the requirement for personnel to follow local Host Nation limits on gatherings and other public health measures off military installations.