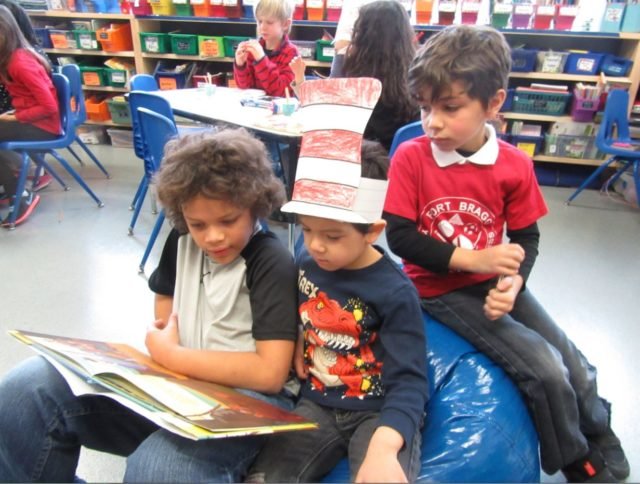 Patch Elementary School students read with Stuttgart Elementary School students, March 6, 2017, during Read Across America week. Photo by Daniel L'Esperance.
By Holly DeCarlo-White
USAG Stuttgart Public Affairs office
The National Education Association's Read Across America is an annual reading motivation and awareness program that calls for every child in every community to celebrate reading on March 2, the birthday of children's author Dr. Seuss. According to the NEA's website, motivating children to read is an important factor in student achievement and creating lifelong successful readers. Research has shown that children who are motivated and spend more time reading do better in school.

Department of Defense Education Activity (DoDEA) schools in U.S. Army Garrison Stuttgart each held reading events and activities for children throughout the week. Here is a sample of just a few events held between March 2-10 to celebrate reading.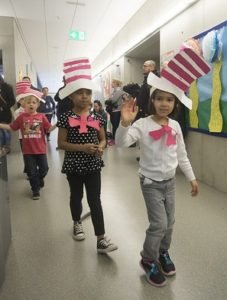 View the photo album here.
Panzer Kaserne:
Students from the Strong Beginnings class at Patch Elementary School visited a 2nd grade class at Stuttgart Elementary School, March 6. The 2nd graders read to their peers and helped make Dr. Seuss Cat Hats, and a special snack that also looked like a hat. The 2nd graders practiced reading books they thought fellow students would enjoy.
"They loved being big brothers and sisters to their new friends., said Daniel L'Esperance, Patch Elementary School teacher.
Stuttgart Elementary School supported reading and literacy with a Dr. Seuss parade through the school. Following the parade, Garrison Commander, Col. Glenn K. Dickenson read to students during an assembly at the school.
Kelley Barracks:
The U.S. Africa Command Family Readiness Group hosted an event, March 7 at the Kelley Club. Children of all ages and families participated in craft activities and reading. Attendees brought their favorite books to have them read by volunteers, or to swap for other books.
Robinson Barracks:
RB Elementary School hosted a Read Around Robinson event where students in grades K-5 traveled to different locations within the school to hear teachers and volunteers read books. Among the volunteers, Col. Glenn K. Dickenson, garrison commander, read two Dr. Seuss stories, starting off with the book entitled, "There's a Wocket in My Pocket."