By Krystal White
AdvantiPro contributing writer
White beans with poached egg, wilted greens and brown-butter Lemon Sauce
Garlic and brown-butter soaked beans and eggs pop with bright flavors. This is a perfect meal for a quick date night during the busy work week.
Servings: 2
1 can white beans, drained and rinsed
3 fresh eggs, (more or less depending on how hungry you feel and what else is being served)
1 bunch (about 10 ounces) Swiss chard, (sliced into thin ribbons) washed, stems removed, and sliced
4 garlic cloves, sliced
1 pinch red pepper
2 tablespoons butter
2 tablespoons lemon juice
salt and pepper
Poached eggs: Fill a pot with 4 inches of water and bring to a hot simmer. Crack the eggs into individual measuring cups and slowly slip them in the simmering water. Poach eggs for 5 minutes and then transfer to a bowl filled with warm water.
Cook greens and garlic: In a large skillet over medium heat, heat 1 tablespoon of olive oil. Add the garlic, greens and a pinch of salt and pepper. Saute until the chard wilts and the garlic is pungent. Add red pepper flakes and transfer mixture to a separate plate.
Brown the butter: With the skillet back over medium-high heat, melt the butter. Continue to cook it, swirling the butter occasionally in the pan until the butter darkens and begins to smell nutty. Remove from heat and whisk in the lemon juice and 1/4 teaspoon of salt. The lemon juice will make the butter sizzle up and sputter before cooling down.
Plate together: Line the bottom of a plate with beans. Add the greens on top. Slowly remove the poached eggs from the water with a slotted spoon and lay them over the beans. Finally, pour the butter-lemon sauce on top and serve immediately.
Almond pesto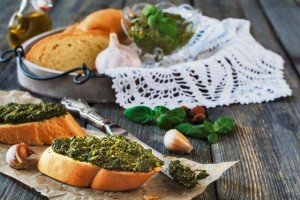 An excellent summer sauce that is slightly sweet and less oil based compared to a traditional recipe. Drizzle the pesto over grilled vegetables (zucchini, asparagus, tomatoes and peppers) or spoon on top of steamed white fish or roasted chicken.
Servings: 4
2 cups organic spinach
1 cup fresh organic basil
2/3 cup raw almonds, toasted
2/3 cup freshly grated Parmesan cheese
6 cloves of garlic, peeled
1 cup cold-pressed extra-virgin olive oil
1 and 1/4 tablespoon organic fresh-squeezed lemon juice
1/2 teaspoon organic lemon zest
sea salt and pepper to taste
Puree all ingredients in a high speed blender. Once prepared, let sit for at least 8 hours to allow all flavors to marinate together.
Grilled figs and peaches with date balsamic cream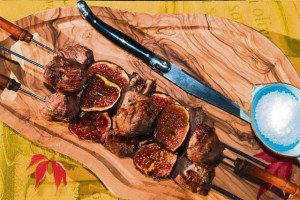 Do you need to impress someone in a short amount of time? Roasting the fruit over a grill or under a broiler set on high will caramelize the natural sugars in the fruit. Pairing the date balsamic cream (found in specialty shops in the farmer's market or in most large German supermarkets) with creme fraiche and a little sprinkle of salt and pepper, will add a unique, bright balance of flavors that you'll crave all summer long.
Servings: 4
8 figs, halved
4 peaches, halved
1 tablespoon butter
4 tablespoons date flavored balsamic cream sauce
½ cup creme fraiche
sea salt and pepper to taste
Cook fruit: Baste the flat end of the fruit with butter and grill or broil for 2 minutes or until browned.
Set fruit to cool for 15 minutes, dividing them onto 4 plates.
Drizzle 2 tablespoons creme fraiche on top of fruit, top with balsamic cream sauce and a dash of sea salt
and pepper.