Story and photos by Amie LaSalvia
AdvantiPro contributing writer
Garmisch-Partenkirchen is a beautiful place to visit, located right at the foot of the Alps. Garmisch and Partenkirchen used to be two separate places, but were merged for the 1936 Winter Olympics. It's a three-hour drive from Stuttgart, but it is definitely worth the drive with places to stop and stretch your legs along the way as you admire the beautiful scenery.
Hiking around Garmisch
During the summer months in Garmisch, the climate is perfect for outdoor activities for anyone who loves nature. Hikers can explore countless miles of walks and leisurely hikes around the amazing alpine lakes and there are many great trails for families. The Alpine mountains are truly a breathtaking place to spend some time and enjoy nature.
Neuschwanstein Castle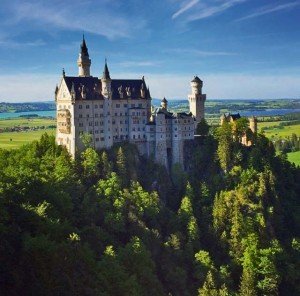 Neuschwanstein Castle is without a doubt a "must do" before, during or after a trip to Garmisch. The castle is found in the Alps and the view is worth seeing. When taking a trip to the castle, be sure to get there as early as possible if you want to take a tour of the inside.
You will need to make sure you purchase a ticket from the ticket office located at the foot of the hill. The walk up to the castle is about 30 to 40 minutes — if you don't fancy the walk, or if you're seeking a more romantic approach, there is a horse and carriage that will take you to and from the castle. When walking up the winding road, there are some great photo opportunities by the waterfall and streams that run down the mountain. Once you reach the top, there is a magnificent panoramic view.
This magical castle was the inspiration for the Disney castle and was once home to King Ludwig. For more information and for tickets, visit www.neuschwanstein.de.
Zugspitze Mountain
Nestled in the Alps right outside of Garmisch is Zugspitze Mountain, Germany's tallest mountain. The mountain is 2962 meters (9718 feet) high. There is a cable car that will take you straight to the peak which you will find right next to the Eibsee parking lot. Once you are at the top of this mountain, on a clear day, you are able to see mountain peaks of four different countries: Austria, Switzerland, Italy and Germany. You will also get a glimpse of 400 different mountain peaks.
The border between Germany and Austria runs along the west summit, also a great place for outstanding photos. While you are enjoying the beautiful views, take advantage of the panorama restaurant that serves fantastic dishes while you enjoy the scenery. Between Sept. 19 and 27, Zugspitze hosts their annual Oktoberfest where they serve original Paulaner beer, Tyrolean and Bavarian delicacies, and play great traditional Oktoberfest music. For more information or to reserve a table, visit www.zugspitze-oktoberfest.at.
Edelweiss Resort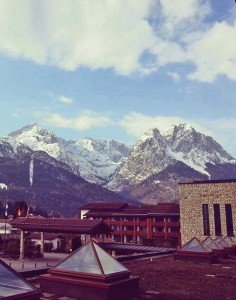 There are many great places to stay in Garmisch but the Edelweiss Lodge Resort is one of the best. It is available to Department of Defense ID cardholders, retirees and dependents. This lodge not only has great room prices, it also offers its guests a number of things to do.
At the end of a long day, spend time in the resort's wellness club which includes a gym, indoor heated pool, outdoor hot tub, wet and dry saunas, massage therapy and a refreshing juice bar. Not only do guests have unlimited access during their stay to the wellness club, but they also have access to some great restaurants.
The resort has countless summer outdoor activities and tours. You can pick up information from their gift store or at the front desk. Be sure to ask about the Partnach Gorge tour, biking and hiking adventures, indoor rock climbing, water sports and paragliding. For more information, visit www.edelweisslodgeandresort.com.