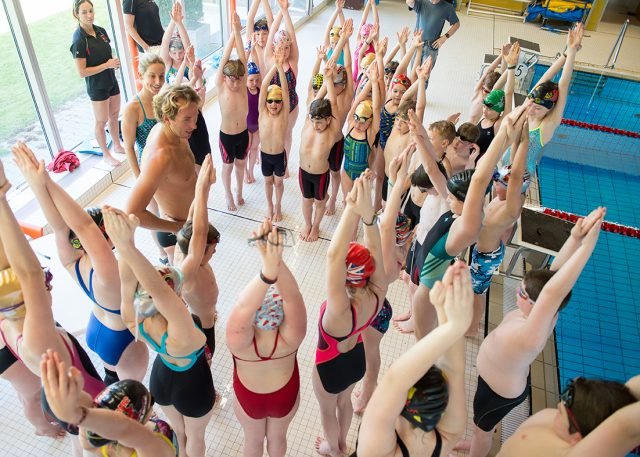 By Kevin S. Abel
USAG Stuttgart Public Affairs Office
Olympic athletes Aaron Peirsol and Kim Vandenberg visited Sindelfingen on Saturday, May 21, for a swim clinic to help Stuttgart Piranhas improve their swimming stokes and get ready for swim season, which runs from August through February.
The clinic featured two sessions that allowed the Olympians to teach in a small group setting, maximizing the time spent with each swimmer. During the clinic, the Olympians focused on favorite drills that helped them throughout their career to become a faster swimmer.
"As a coach, I learned some new drills that will benefit our swimmers," said Andrea Symak, head coach, Stuttgart Piranhas. "I think overall our team was thrilled to have Aaron Peirsol and Kim Vandenberg here to instruct."
Peirsol is a three-time Olympian and seven-time Olympic medalist, earning five gold and two silver medals. He currently holds the world record in the 100-meter and 200-meter backstroke and the 4×100-meter medley relay. Vandenberg, who is a butterfly swimmer, was a member of the bronze-medal-winning U.S. team in the women's 4×200-meter freestyle relay at the 2008 Summer Olympics in Beijing.
"These kids are at the age that both Aaron and I started swimming," said Vandenberg. "When I was their age, I looked up to the Olympic athletes, so for me it's so important to give back to the community." Adding that she, "find(s) that a lot of younger swimmers doubt their abilities; you must believe in yourself and your abilities."
The day started with the younger swimmers getting their chance in the pool and two hours of training to help improve the foundations of the backstroke and butterfly.
The afternoon training session allowed the seasoned swimmers to take a moment to get to know the Olympians and their training regiments. "It is interesting to know their favorite drills to correct technique, what type of sets they like to work on and their approach to teach different age groups," said Symak.
"The best thing about the Olympians being with us was when each one of us had the chance to interact with Peirsol and Vandenberg, personally, all throughout the clinics," said Annelise Meyer, senior swimmer, Stuttgart Piranhas. "A few of us have had other opportunities to meet Peirsol and Vandenberg long before this clinic. I was coached by Peirsol at the University of Texas swim camp when I was nine years old, and it was really cool to interact with him once again.
To round out the clinic the Stuttgart Piranhas' swimmers had the opportunity to race the Olympians in their choice of strokes.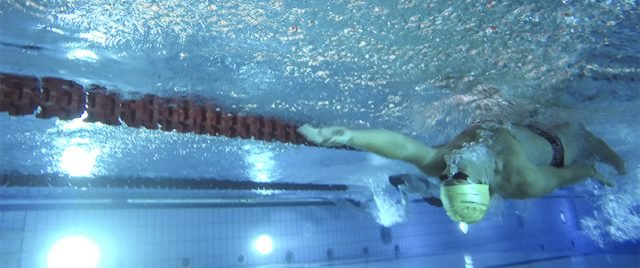 "It was an awesome privilege to have Aaron Peirsol and Kim Vandenberg here conducting a clinic for the Piranhas in Germany," said Meyer. "We don't have the same opportunities to attend swim clinics as other swimmers do in the United States, it was a very exciting and unforgettable experience."
The Stuttgart Piranhas are an international youth swim team open to swimmers in the Stuttgart area, representing the United States and the Stuttgart Community. The team is part of the European Forces Swim League, competing in swim meets around Europe including Germany, Italy, Netherlands and Belgium.
To view more photos from the swim clinic visit our Flickr site at: http://bit.ly/stuttgartpiranhas