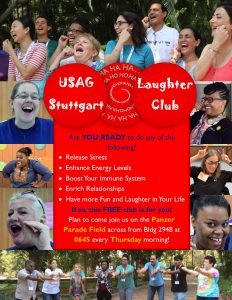 Compiled by USAG Stuttgart Public Affairs Office and Army Substance Abuse Program
Be a part of this "seriously hilarious" movement.
Are you ready to release stress, enhance your energy levels, boost your immune system, enrich relationships and simply have more fun and laughter in your life?
Join the U.S. Army Garrison Stuttgart's Laughter Club once per week, for 15 minutes to start your day off with a good laugh and a smile.
The club meets every Thursday morning at 6:45 a.m. on the Parade Field across from Building 2948 on Panzer Kaserne.
If you can't make it to Panzer but want to bring a bit of laughter and positivity into your unit, contact Army Substance Abuse Program's Certified Laughter Yoga leaders to schedule a training at DSN: 431-2530.
What is Laughter Yoga?
This exercise combines stretching with forced laughter. Stretching relaxes the body, while forced laughter eventually translates into genuine natural laughter, boosting  mood.

 Here are some facts:

Laughter Yoga provides the ability to laugh at things which previously would have caused stress or anger, along with a new sense of forgiveness.
Depressed people seldom laugh, and laughing people are seldom depressed. Laughter Yoga has helped thousands to overcome depression.
Laughter exercises can increase net supply of oxygen to our body and brain which helps to improve efficiency and performance.
Scientific research shows that laughter can help to resolve many major workplace issues.
By introducing Laughter Yoga to staff, companies have reported a happier workplace, increased efficiency, better communication, increase in sales and productivity, increased creativity and better teamwork, decrease in illness and absenteeism, and a reduction in employee turnover.
Laughter Yoga is a powerful tool that can give you a highly motivated and energetic workforce for maximum productivity and profitability.
Laughter Yoga is the quickest, most effective, most economical way to help employees reduce stress.