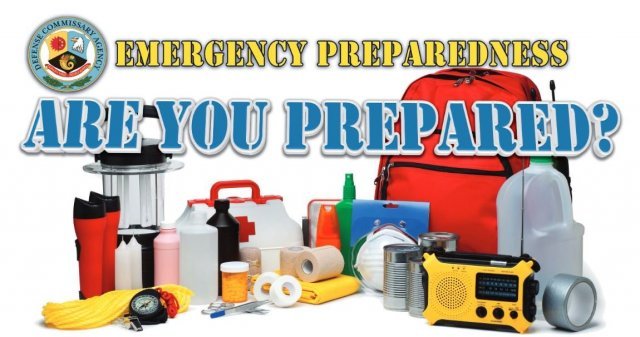 Commissary patrons can save on their emergency supplies.
By Kevin L. Robinson,
DeCA public affairs specialist
Although military commissaries aren't equipped to predict the next emergency, they do encourage their patrons to use their benefit to be prepared.
As they take stock in their state of readiness, military patrons can shop their local commissaries for the following items, considered appropriate for disaster preparedness: beef jerky and other assorted meat snacks, soup and chili mixes, canned goods, powdered milk, cereals, batteries, airtight bags, weather-ready flashlights, tape (all-weather, heavy-duty shipping and duct), first-aid kits, lighters, matches, lanterns, candles, hand sanitizer and anti-bacterial wipes. Specific items may vary from store to store.
The North Atlantic hurricane season runs June 1 to Nov. 30 and covers the North Atlantic Ocean, the Caribbean Sea and the Gulf of Mexico. Tornado season runs from April to July.
Emergency preparedness officials suggest having a disaster supply kit that includes the following items:
Water – at least one gallon daily, per person (three-day supply for evacuation, two-week supply for home)
Nonperishable foods – canned meats, fruits, vegetables, dried fruits, nuts, raisins, cereal, crackers, cookies, energy bars, granola, peanut butter, and foods for infants and the elderly (three-day supply for evacuation, two-week supply for home)
Paper goods – writing paper, paper plates, paper towels and toilet paper
Cooking items – pots, pans, baking sheets, cooking utensils, charcoal, a grill and a manual can opener
First-aid kit – including bandages, medicines and prescription medications
Cleaning materials – bleach, sanitizing spray, and hand and laundry soap
Specialty foods – diet and low-calorie foods and drinks
Toiletries – personal hygiene items and moisture wipes
Pet care items – food, water, muzzle, leash, carrier, medications, medical records, and identification and immunization tags
Lighting accessories – flashlight, batteries, candles and matches
Battery-powered or hand-crank radio (NOAA Weather Radio, if possible)
Duct tape, scissors
Multipurpose tool
Copies of personal documents (medication list and pertinent medical information, proof of address, deed/lease to home, passports, birth certificates and insurance policies)
Cell phone with chargers
Family and emergency contact information
Extra cash
Emergency blanket
Maps of the area
Blankets or sleeping bags
For more information about disaster preparedness, go to https://www.commissaries.com/disaster_prep.cfm for lists of resources.