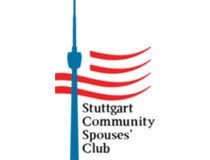 Stuttgart Community Spouses' Club
The Stuttgart Community Spouses' Club raises funds through its Thrift Store on Patch Barracks and its periodic Bazaars, and the SCSC Welfare Committee reviews individual grants that are submitted and donates funds accordingly. The scholarship committee is separate and reviews applications to donate money for scholarships.
"The goal of the welfare committee is to make our community a better place: to help develop community leaders, to provide cultural/educational/enrichment opportunities and experiences," said Ruth Clark, SCSC Welfare Committee. "The groups we support demonstrate that they positively impact the Stuttgart community in these areas."
The title "welfare" refers to the committee providing SCSC funds through donations to support charitable, educational, recreational and social community events. The Welfare Committee's mission is to support community events as well as promote the groups that the SCSC donates money to. In 2017, the SCSC donated more than $325,000 to various organizations, including scholarships,  at the community schools' PTAs, school & Child Youth Services sports teams, Boy and Girl Scouts, the USO, the annual Army and Air Force balls, the Wounded Warrior Program, and many more organizations that are listed on the welfare webpage on the SCSC website.
It also provides funds to German charities such as the Filderstadt and Esslingen animal shelters and the Deutsch-Americakanisches Zentrum (German-American cultural center) in Stuttgart.
"The SCSC is proud to support German organizations with the goal of fostering a positive relationship with our host nation and encouraging educational and cultural experiences for Americans living here," Clark said.
The Welfare Committee encourages community members to engage in SCSC-supported events. It is a volunteer-driven organization that is always looking for community members to participate in events, volunteer to help raise funds and be active in the SCSC. Donations of time and items to the Thrift Store and Bazaars are essential in order to continue to support so many important community events. Groups interested in submitting a grant request can find the form and information on the SCSC Welfare page. Grants are due by the 15th of each month and April is the last submission date for the fiscal year.
Want to know more?
To learn more about the SCSC Welfare Committee, email scsc.welfare@gmail.com.