By John Reese
USAG Stuttgart Public Affairs
With blue lights flashing from fire trucks and cop cars, garrison firefighters and Soldiers of the 554th Military Police Company gave students high-fives and a sustained round of applause during a last-day-of-school "clap-out"at Stuttgart Elementary and High Schools, June 14.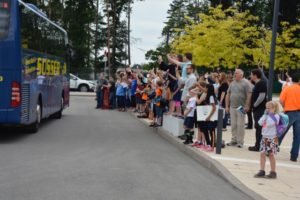 The warm send off by garrison emergency responders, accompanied by Alice Cooper's "School's Out" and other rock favorites playing over the public address system, plus an occasional blast from a police cars or fire trucks.
"It's a very emotional day, because we've had such a good school year," said reading specialist Valerie Krunich, who teaches all grades. "We hate to see these kids leave. Next school year, many will return, but many also PCS."
There was a lot of hugging and a few tears as the students who ride the school buses parted company for the last time of the school year.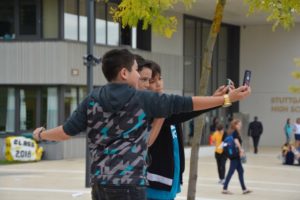 "I feel kind of sad, because I'm moving," said 5th grade student Zander Waskiewicz, taking selfies together with his classmates Alexander Julanlunamendoza and William Wetherill. "I'll miss my great friends I've had in the past year."
"The year's gone very fast and I hope to see my friends, call them and spend as much time with them as I can," Wetherill said.
When asked how he felt about it being the last day of the 2017/2018 school year, Julanlunamendoza reflected it had been a good year.
"This year has been an adventure," he said. "Every year is an adventure for everybody, and I think this year was the best adventure for me."
As for the last day of school, 11th grader and Girl Scout Ambassador Mika Taylor said she was excited about the prospects of what she planned to do over the summer before entering her senior year, and glad the stressful weeks at the end of the school year were over. She'd studied hard for three months and confidently aced her finals, and offered encouragement to other young ladies and Girl Scouts to spend their summer doing their best.
"Girl power is super important," Taylor said. "I think its important for girls to be active in their community, and to be able to show responsibility and leadership, especially in this day and age when women are given way more opportunity than before. I say to all of the girls out there, join the Girl Scouts and be a leader in the community. All girls have a chance to learn and grow, empowering women."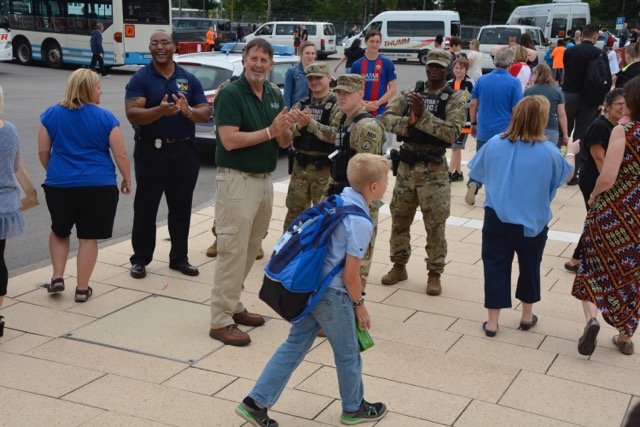 "The clap-out went very well today," said Dan O'Brien, Force Protection Officer for Department of Defense Education Activity, after the event. O'Brien clapped for the students along with the MPs before joining the transportation crew, the people who ensure the school buses run on time. "DoDEA just released 75,000 students for the summer break. The big thing that was shown today was the cooperation between the Stuttgart military community and DoDEA."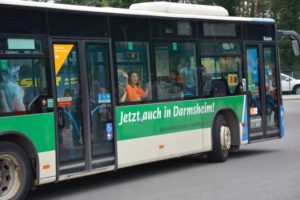 O'Brien indicated the members of the transportation team, adding that he and the team were the shield and the wheels for the students in support of the educators.
"With so many students, we rely on our installation partners to collaborate with us to ensure the safety and security of our children, from the time they leave their doorstep until they return home," O'Brien said.
With all of the school buses gone and the loading zone empty, the PA fell silent and the few remaining students made their final farewells.  Like the song said, "school's out for summer."