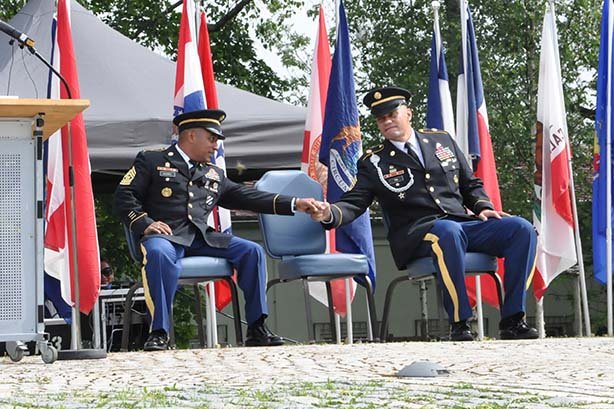 By John Reese
USAG Stuttgart Public Affairs
At a ceremony before assembled troops and distinguished guests, incoming Command Sgt. Maj. Toese Tia assumed responsibility from Command Sgt. Maj. Mariano Z. Alvarez as the U.S. Army Garrison Stuttgart senior enlisted advisor, June 15.
The ceremony took place on Washington Square, Patch Barracks, on a warm, mostly sunny Friday morning. A joint service color guard and a second color guard that included a Bundeswehr sergeant major took to the field as flags and banners waved in a gentle breeze. The national anthems of Germany and the United States were performed in stirring acapella by Jack Lindstrom and Tess Moss-Beaman, respectively.
The change of responsibility followed as the guidon was symbolically passed from Headquarters and Headquarters Company 1st Sgt. Anthony Hopkins to Alvarez, then to garrison commander Col. Neal Corson, who passed it to Tia, and then Tia passed it back to Hopkins, completing the transfer.
"As is with all change within the military, we sadly say goodbye to Command Sgt. Maj. Alvarez as we gratefully welcome another. Today Command Sgt. Maj. Tia joins our team," Corson said, noting the wealth of experience Tia brings to the garrison. "He is an expert in garrison operations; we are overjoyed at having him join the team."
Tia, a native of American Samoa, began life as a Soldier in 1989 and went on to serve in every enlisted leadership position during his career. He served multiple tours downrange in Iraq.
This isn't Tia's first tour of duty in Germany; the highly decorated member of the Sergeant Audie Murphy Club previously served with the 21st Theater Sustainment Command in Kaiserslautern.
In a retirement ceremony that took place immediately following the change of responsibility, and in keeping with the joint service environment of USAG Stuttgart, a reading of "Old Glory" was presented by Navy Master Chief Dion Dupree, senior enlisted advisor, Defense Information Systems Agency.
Alvarez began his farewell address by reciting the Army Values.
"There hasn't been a day in 30 years that I didn't want to come to work, because I loved my job and I enjoyed working with you," Alvarez said.
After acknowledging the garrison commander and VIPs, Alvarez addressed his family directly, thanking them for their sacrifices over the years and promising to spend more time with them in the future. Alvarez also said that, having been a Soldier all of his adult life, he wasn't certain what he would do next, but that he'd still be an ardent supporter of Soldiers and the Army.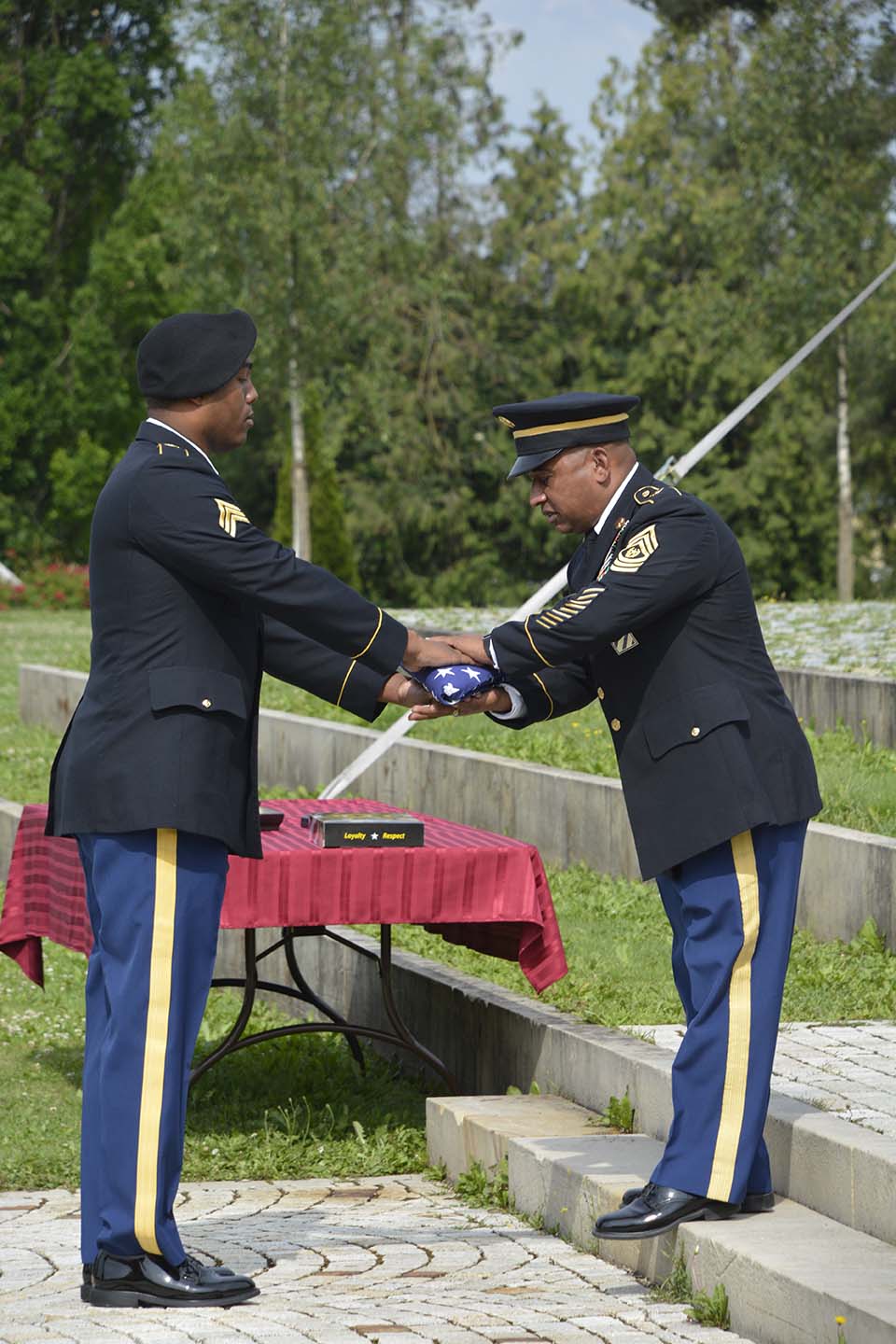 "It has been an honor and a privilege to lead, develop, and care for the Soldiers who have stood in my formations," Alvarez said. "From Kuwait to Iraq to Bosnia to Afghanistan and to Germany, I have been privileged to have had the responsibility, authority, and accountability for those Soldiers."
Alvarez' support to the Stuttgart military community went beyond his official duties, according to Corson. It was evident from events such as the annual tree lighting ceremonies, when he rode a garrison fire truck in costume as the Grinch, or fired a t-shirt cannon above the crowd on Independence Day.
"To put it plainly, he just made this community better," Corson said.