By Geoffrey Morris
Stuttgart Citizen volunteer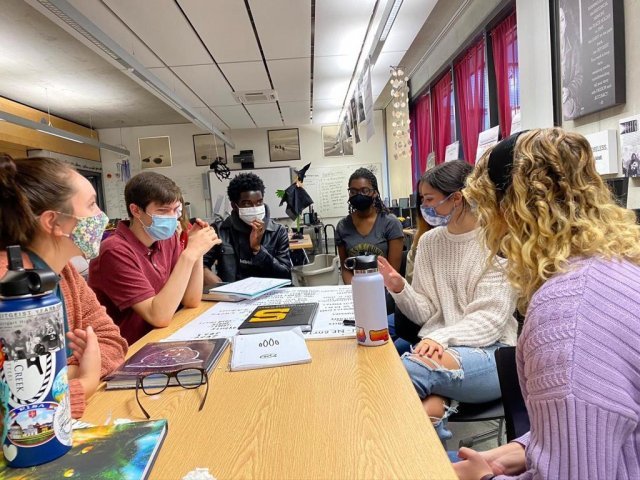 Stuttgart High School students have a unique opportunity to gain work experience and explore future opportunities prior to graduating through the school's Career Practicum Program.
Students can select from a list of employers both on and off-post they want to apply for. Once the employer agrees to "hire" them, they work together to establish a work schedule that aligns with the student's classes. Next, the employer outlines their expectations and duties.
Substitute program coordinator, Kaitlyn Haverty, said she is always impressed with the way her students take on new responsibilities.
"They want to work and they are very hard workers," she added. "This is a great program because it really highlights their work ethic."
"It has helped me to mature as I prepare for life after high school."
The program employs more than 50 students around the garrison in locations like the auto-care center, food courts and hotels. This year, because of limited job openings due to COVID-19, the majority of participants are working for the schools, with several serving as teachers' aides.
"I can't tell you how much they've helped," said Stuttgart High School anatomy teacher Stephanie Payne. "They set a great example for my students too."
While on-post services retain the majority of the student hires, some venture off-post for specialized training in fields only available outside the gate. Abigail Lakich is one of those students. She travels off post every other day to work as an assistant to the dentists at Midwest Family Dentistry in Schonaich.
"I've always known I wanted to work in medicine," Lakich said. "But working here I've learned so much, and have experienced stuff I couldn't have imagined before."
Her supervisor, Michaela Ratcliff, speaks highly of Lakich, who wants to pursue a career in the medical field. So far she has been gaining knowledge and experience in charting and x-raying patients.
One of the largest employers of practicum students in Stuttgart is FMWR, with Army Lodging employing nearly a dozen students. Lea Scavetta, a high school senior, works as a front desk clerk at the Panzer hotel. She started in late August and was able to continue working through the school year because of the career practicum program. Now she spends part of her school days booking reservations, helping guests, and even dog walking for quarantined families.
"It has helped me to mature as I prepare for life after high school," said Scavetta.
The program provides an important opportunity for students, like Scavetta, on the verge of adulthood by allowing them to explore different career fields and make more informed decisions about their future goals after graduation.
Students who will be juniors or seniors next year may request to take the career practicum course by signing up on their course request forms at the end of this school year. Students already employed may request to complete their career practicum course with their current employer. Unless already employed, students will not receive pay for their time.