Public Affairs
USAG Stuttgart

You check the weather before heading to work and find a thick blanket of snow on the road. Is it safe to drive or not? And what's the condition of the roads on and off post?
Generally, reporting delays or closures are made early in the morning. Official weather reports are received around 11 p.m. and 2 a.m. Closure or reporting delays will be announced soon after. You can expect a notification on the garrison Facebook posted by the USAG Stuttgart Installation Operations Center, through the ALERT messaging system or on AFN Stuttgart. When in doubt, you should always default to the most recent updates, whether on the garrison Facebook page or the IMCOM-E Road Conditions website. If the road conditions are reported as amber as of a certain time, and haven't been updated since then, that is the most recent condition to report.

Current on-post road conditions can be found at https://home.army.mil/roads/, which can be easily accessed from the garrison website or app. Stuttgart's on-post road condition status is determined by the Military Police and posted online by the IOC. Call the Stuttgart IOC Road Conditions Hotline at 431-3744 or 07031-15-3744.
"The USAG Stuttgart community members are the IOC's greatest assets," said Dan Bates, center chief, USAG Stuttgart IOC. "We aim to keep you informed with the latest weather conditions and information."
It is garrison commander Col. Jason Condrey's decision to close the installation or delay reporting applies to non-essential civilian. Essential personnel should have their status noted in their position description. If you are unsure, contact your supervisor for clarification.
Military personnel may be impeded by the absence of civilians. However, military personnel remain under the authority of their military chains of command. If you are unsure whether you should report, contact your chain of command for clarification.
When driving a vehicle, green, amber, red and black are used to determine road conditions on Army installations. Drivers should always take into account their individual driving experience before heading out. If the garrison commander decides to close the garrison or delay start time due to inclement weather, your supervisor or chain of command can still provide mission guidance to account for your duty hours. Outside of a garrison ordered delay or closure, if you feel your local conditions are too hazardous for you to report, contact your chain of command.
"Please remember ice and snow … take it slow as you and your families play a vital role in our great military community and our nation's defense,"  Bates said.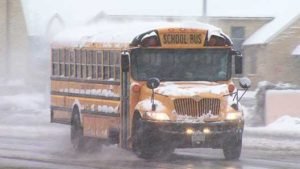 School delays and closures are not a school decision. School closure decisions are included in the post closure or delay decision, made by the garrison commander prior to school buses beginning their routes at 5:30 a.m. If school is closed or delayed, it will be announced through ALERT mass notification system, the garrison Facebook page and AFN Stuttgart.
If the school bus is late or doesn't show up at the expected time during inclement weather, it is recommended to not wait longer than 30 minutes. If your child's school bus does not show up at the expected time, you may call the school or DoDEA-E transportation office (0611) 705-337-2251  to check the status. Please consider your individual situation, keeping the safety of your student in mind. Remember, parents should not leave younger children unattended at bus stops. Always comply with child supervision guidelines. In addition, further caution by parents is recommended during inclement weather.
All student absences are considered on a case by case basis. School buses exercise extreme caution in all situations, particularly those involving inclement weather.  Sponsors may be aware of situations and circumstances and apply common sense in their situation for the safety of their children. The school will be notified if your child's bus is running late. In these cases, the child will not be considered tardy.
German local television stations tend to broadcast local information on the area around Stuttgart. However, they may not broadcast immediate information outside of their local newscast. Local radio stations are good sources for information such as local weather alerts and road conditions for German speakers. AFN Stuttgart begins broadcasting weekdays at 6 a.m. The Eagle will also announce closures and delays, based on information received from the garrison.
Deviations to the shuttle bus route will be posted on the garrison Facebook page by the Stuttgart IOC. Public transportation systems websites give information on current public transportation delays, but may not always be up-to-date, depending on the situation.
According to the Housing Office handbook, "In snowy weather, residents are responsible for the removal of snow and ice from entrance areas, steps, porches, driveways and sidewalks in the front and rear of their buildings and will clear walkways daily. Snow and ice on entrance areas and walkways shall be removed no later than 7 a.m. Snow shovels and salt/sand are available in the Self-Help Store. Snow and ice shall be removed prior to sprinkling salt."
Hardware stores and the Exchange sell approved de-icing agents and can answer most questions about them. Generally, most German states and cities prohibit the use of salt on the sidewalks. If you still use salt, you may face a fine, depending on where you live. The approved materials for sidewalks are abrasives, such as sand or "Streugut."
If you get injured after slipping and falling off-post during inclement weather, contact the local German emergency services right away by dialing 112 for the fire department and ambulance or 110 for the Polizei.
Tips for winter driving, driving in the snow and long distance winter trips: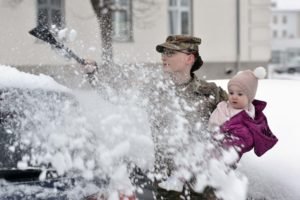 Cold Weather Driving:
Keep a bundle of cold-weather gear in your car, such as extra food and water, warm clothing, a flashlight, a glass scraper, blankets, medications, and more.
Make certain your tires are properly inflated and have plenty of tread. (Ensure you have the proper tire for the season).
Keep at least half a tank of fuel in your vehicle at all times.
Never warm up a vehicle in an enclosed area, such as a garage.
Do not use cruise control when driving on any slippery surface, such as on ice and snow
Driving in snow:
Stay home. Only go out if necessary. Even if you can drive well in bad weather, it's better to avoid taking unnecessary risks by venturing out.
Drive slowly. Always adjust your speed down to account for lower traction when driving on snow or ice.
Accelerate and decelerate slowly. Apply the gas slowly to regain traction and avoid skids. Don't try to get moving in a hurry and take time to slow down for a stoplight. Remember: It takes longer to slow down on icy roads.
Increase your following distance to five to six seconds. This increased margin of safety will provide the longer distance needed if you have to stop.
Know your brakes. Whether you have antilock brakes or not, keep the heel of your foot on the floor and use the ball of your foot to apply firm, steady pressure on the brake pedal.
Don't stop if you can avoid it. There's a big difference in the amount of inertia it takes to start moving from a full stop versus how much it takes to get moving while still rolling. If you can slow down enough to keep rolling until a traffic light changes, do it.
Don't power up hills. Applying extra gas on snow-covered roads will just make your wheels spin. Try to get a little inertia going before you reach the hill and let that inertia carry you to the top. As you reach the crest of the hill, reduce your speed and proceed downhill slowly.
Don't stop going up a hill. There's nothing worse than trying to get moving up a hill on an icy road. Get some inertia going on a flat roadway before you take on the hill.
Long distance winter trips:
Be Prepared: Have your vehicle checked by a ADAC or Approved Auto Repair facility before hitting the road like. Example are AAFES Care Care Center, MWR Car Care Center or German Car Care Center like ATU (Auto-Teile Unger).
Check the Weather: Check the weather along your route and when possible, delay your trip if bad weather is expected.
Stay Connected: Before hitting the road, notify others and let them know your route, destination and estimated time of arrival.
If you get stuck in the snow:

Stay with your vehicle: Your vehicle provides temporary shelter and makes it easier for rescuers to locate you. Do not try to walk in a severe storm. It is easy to lose sight of your vehicle in blowing snow and become lost.
Don't over exert yourself: When digging out your vehicle, listen to your body and stop if you become tired.
Be Visible: Tie a brightly colored cloth to the antenna of your vehicle or place a cloth at the top of a rolled up window to signal distress. At night, keep the dome light on if possible. It only uses a small amount of electricity and will make it easier for rescuers to find you.
Clear the Exhaust Pipe: Make sure the exhaust pipe is not clogged with snow, ice or mud. A blocked exhaust pipe can cause deadly carbon monoxide gas to leak into the passenger compartment of the vehicle while the engine is running.
Stay Warm: Use whatever is available to insulate your body from the cold. This could include floor mats, newspapers or paper maps. Pre-pack blankets and heavy clothing to use in case of an emergency.
Conserve Fuel: If possible, only run the engine and heater long enough to remove the chill. This will help to conserve fuel.
(Editor's note: Some information for this article is courtesy of the USAG Wiesbaden Public Affairs Office.)