Public Affairs Office
U.S. Army Garrison Stuttgart
Garrison weather delays and closures
Stuttgart's on-post road condition status is determined by the Military Police and posted online by the Installation Operations Center. Personnel can expect a notification via the ALERT messaging system. Notifications are also posted to the IMCOM-Europe Road Conditions webpage, announced on AFN Stuttgart, and on the USAG Garrison App and Facebook page. 

It is the garrison commander's decision to close the installation or delay reporting for non-essential civilians. Essential personnel should have their status noted in their position description. Military personnel remain under the authority of their military chains of command.
Outside of a garrison-ordered delay or closure, if you feel your local conditions are too hazardous for you to report as scheduled, contact your chain of command or supervisor for clarification and mission guidance to account for your duty hours.
Roads/Weather on the USAG Stuttgart app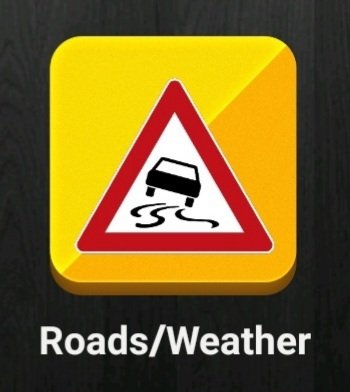 There's an easy way to check if a weather-related delay or closure is in effect using the "Roads/Weather" button on the USAG Stuttgart mobile app, located on the second page of the main menu.
When a delay or closure is in effect, this button will open a Citizen post specific to the announcement for that day.
Otherwise, if normal operations are planned, this button will direct to the IMCOM-E Road Conditions page or a Citizen post reaffirming that status.
Please note that delayed reporting or closures will also be reflected on the IMCOM-E Road Conditions page.
DoDEA schools weather delays and closures
School delays and closures due to inclement weather are made by the garrison commander and not DoDEA. If school is closed or delayed, it will be announced through the ALERT mass notification system, AFN Stuttgart, and on the garrison App and Facebook page.
Please consider your individual situation, keeping the safety of your student in mind. If the school bus is late or doesn't show up at the expected time during inclement weather, it is recommended to not wait longer than 30 minutes. You may want to call the school or DoDEA-E transportation office (0611) 705-337-2251 to check the status if you have not received an ALERT notification. Always comply with child supervision guidelines and do not leave younger children unattended at bus stops.
All student absences during inclement weather are considered on a case by case basis. The school will be notified if your child's bus is running late and in these cases, the child will not be considered tardy.
Residential snow and ice removal
According to the Housing Office handbook, in snowy weather, residents are responsible for the removal of snow and ice from entrance areas, steps, porches, driveways and sidewalks in the front and rear of their buildings and will clear walkways daily. Snow shovels and sand are available in the on-post Self-Help Stores.
For those living off post, residents are also responsible for snow and ice removal around their property, such as sidewalks and steps. Generally, most German states and cities prohibit the use of salt for icy conditions and prefer abrasive materials, such as sand or "Streugut."
If you get injured after slipping and falling off-post during inclement weather, contact the local German emergency services right away by dialing 112 for the fire department and ambulance or 110 for the Polizei.
Winter Weather Driving Tips 
"ice and snow … take it slow"
Be Prepared: Have your vehicle checked by a ADAC or Approved Auto Repair facility before hitting the road. Keep a flashlight, ice scraper, and blankets in your car, and try to maintain at least half a tank of fuel in your vehicle at all times.
Winter Tires: Cold Weather and All-Weather tires can be identified by the Alpine Snow Flake symbol and are required in Germany when there is snow or ice on the ground (which is possible anytime between October to April).
Check the Weather: Check the weather along your route and when possible, stay home or delay your trip if bad weather is expected.
Stay Connected: Before hitting the road, notify others and let them know your route, destination and estimated time of arrival.
Drive slowly and steady. Always adjust your speed down to account for lower traction when driving on snow or ice.