By Rick Scavetta
U.S. Army Garrison Stuttgart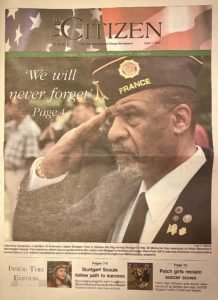 Haywood Donerson liked sitting at his favorite table outside the Panzer Kaserne PX, flipping through the Stuttgart Citizen – his hometown newspaper. Community members would call out to him, "Hey, Mr. D."
Donerson would often carry a copy to Leonberg, where he lived with his German wife Sibylle and their daughter, Patricia.
"He always brought it home," said Sibylle Johner-Donerson about the Stuttgart Citizen. "It was always present. You have dates and things in there that you didn't find in the Stars and Stripes. This was for us, for here."
The U.S. Army began publishing the Stuttgart Citizen, an eight-page weekly newspaper for Americans, on Dec. 3, 1973, shortly after Donerson arrived at the garrison. A native of Washington, D.C., Donerson enlisted in 1955, at age 17, serving overseas in Korea and three tours in Vietnam. A music lover who personally knew singer Marvin Gaye, Donerson performed as a disc jockey in Stuttgart and across Germany. In the 1970's, the Stuttgart Citizen featured activities, to include the dances where Donerson performed.
It was at one of those venues, in 1976, where he met Sibylle. A year later, he retired and chose to remain in Germany. Over the years, Donerson became well known among the military community and to Germans off post. Handsome, dapper and "old school," Donerson always attracted people who wanted to talk to him, his wife said.
By the 1980's, Donerson watched the Citizen grow into a strong community voice, to include letters to the editor and marketplace want ads. The decade began with news on a presidential directive to establish Black History Month. That winter, Army engineers from Stuttgart dug out a U.S.-run ski center in Garmisch, after three feet of snow fell in a day. The troops earned a free day on the slopes. Back at Panzer Kaserne, Citizen reporters covered a tragedy, when a local Soldier died in a freak accident. He plugged in a coffee pot and static electricity ignited a nearby antitank weapon, killing him.
In 1983, daughter Patricia came along, three months premature. After work, at a civilian job on post, Donerson would visit her in the intensive care unit for infants, speaking reassuring words through the incubator.
"He walked up, said a word and her oxygen values and heart monitor went up," Johner-Donerson said.
Patricia recovered and Donerson settled into fatherhood, while living in Leonberg and making German friends there.
Meanwhile, during the early 1980's, training was underway for a new tank – the M1 Abrams, which made the local news. The Citizen included features like the dying art of spit-shining combat boots and AFN Stuttgart's manager describing the five years he spent as a POW in Vietnam. The Citizen staff's hard work did not go unnoticed, wrote Capt. Bill Maddox, the Citizen's editor.
"Any success the Citizen has had is directly attributed to the soldiers laboring to find the perfect photo angle, searching for a lead to start a story or tearing their hair out trying to track down someone with information for an article," Maddox wrote. "Demanding editors were no help."
During the 1990's, the Citizen continued to provide local coverage as U.S. military members in Stuttgart deployed to the Middle East and the Balkans. Features then included the Army blocking Internet chat rooms and a new column called "Thorns N' Roses," the forerunner to ICE comments or Facebook, where community members voiced whether they liked or disliked a garrison service.
As the end of the 20th century drew near, community members awaited the Y2K glitch, that never appeared. What did strike was a violent wind-storm. The Citizen reported that 782 trees on post were uprooted or broken and 700 meters of fencing damaged.
After the Sept. 11, 2001 terrorist attacks, service members in Stuttgart were deployed to Central Asia and the Middle East. Community news, when the garrison was known as the 6th Area Support Group, was still important, like the renovations at the Patch Theater, international Girl Scout conventions, safety messages and local announcements. Commemorative events, like Memorial Day, remained standard features.
On May 30, 2005, Citizen editor Hugh C. McBride snapped a photo of a well-dressed Donerson saluting during a Memorial Day service at Patch Barracks.
"He was very engaged in the community, involved in everything," Donerson's wife said. "He was so proud of that picture." McBride captured everything that Donerson was – a proud yet stern career NCO and veteran, his perfect salute pointing toward his American Legion cap, his gold watch and ring, a manicured goatee and diamond earring.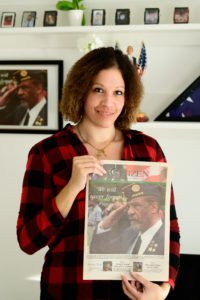 "That's him. That is the way he was," daughter Patricia Donerson said. "That represents him to the T."
The photo ran nearly a full front page that year in early June. Donerson's family later hung the image on the wall at home. Patricia liked the Citizen cover so much that she later brought the photo to a local tattoo artist, who inked her father's image on her back. Thinking her father might not approve, Patricia hid it from him for years.
In 2005, Brandon Beach moved to Stuttgart from California. While working at Kelley Barracks, he saw the Citizen and sought out its offices. A volunteer gig turned into a reporting job. Beach enjoyed covering local schools, connecting with the kids and their creativity, talent shows, sports and their television program, he said.
"I started out at my dream job, I was so fortunate," Beach said. "The Citizen was a huge part of the Stuttgart garrison."
In 2006, Beach won the Army's top civilian writer in the Keith L. Ware awards program for public affairs. The following year, the Citizen moved from Kelley Barracks to its current location on Panzer Kaserne. Beach became the editor.
"Everyone knew us at events – that's the guy that writes the stories – when a Citizen reporter was at an event," Beach said. "It added a certain importance, it meant it was worth covering."
Beach, now a public affairs officer with the Army Corps of Engineers in San Francisco, worked closely with Susan Grady, a former Army parachute rigger who wrote for the Herald Union in Hanau, Germany before joining the Citizen in October 2007.
"What a fantastic time that was," Grady said. "I just had a blast with the people I worked with."
On an early assignment, she recalled, the garrison's environmental team was relocating birds' nests, during renovations at Robinson Barracks.
"The birds built their nests under the eaves," Grady said. "I was in heels, 10 feet up on a ladder trying to get a photo of these nests. That was my introduction. I had been on board two days."
Grady would go on to become the Citizen editor, seeing it change from a biweekly newspaper to an online news site. For eight years, she covered community news, local successes, and tragedies. In 2008, Grady covered the dedication of Clifton Hall, the military police barracks on Panzer Kaserne, named in honor of Cpl. Karen Clifton, a member of the 554th Military Police Company killed in Iraq by an improvised explosive device in June 2007.
"Her sister and her mom were there," Grady said. "When you talk to the people she knew and learned how she died, I'll remember that for sure."
In 2010, the garrison began sharing news on Facebook, which helped the Citizen staff amplify the reach of garrison messages. That year, a warehouse fire burned household goods for many community newcomers, Grady said.
"Everybody pretty much lost everything," Grady said. "That was a big deal, documenting everyone's anguish, or their joy at finding things that had survived."
Back then staff wrote, edited, and designed the newspaper. When printed, they also delivered it to stands. Now, the production and delivery are done by a contracted publisher. Grady recalls running around Stuttgart, getting stories at all times, day and night.
"It's not a 40-hour a week job, not if you care," Grady said, recalling late nights working on the newspaper. "We would work through the weekend putting that sucker to bed. It was so much fun. We lived the job."
During that era, the newspaper launched StuttgartCitizen.com, an online news site that complimented the printed version. With most people getting news on computers and then mobile devices, it quickly became the focus of garrison communication efforts.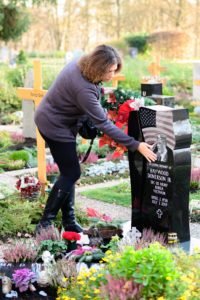 In 2015, then-16-year-old Megan Brown began writing for the Citizen while in high school. She was glad the staff took a chance on employing a student intern and credits the newspaper for launching her career.
"I was like any other coworker. They treated me like an adult. If my writing was bad they told me," Brown said. "They gave me the opportunity to write stories that people would care about."
Brown covered the opening of the new high school on Panzer Kaserne and local sports. After graduating Stuttgart High School in 2016, she studied journalism at the University of Kentucky and in 2019 landed a Navy civilian job in public affairs. Working from Tennessee, she now travels to other Navy bases, interviewing Sailors for their home-town papers.
"The Citizen gave me my start. I wouldn't be where I am without it," Brown said. "It means so much that I got to be a part of it. It was a great way to bring the community together."
The Citizen has brought the Stuttgart Military community together for almost half a century, and for the majority of that it remained Donerson's hometown newspaper. "He was deeply rooted, this was his home," Patricia said.
When Donerson died in 2019, Patricia chose the photo of her dad that ran in the Citizen, with his focused gaze and sharp salute, to adorn his grave stone.
"He was so proud of that photo," she said. "That's him. That is the way he was." That image will forever mark the final resting place of a soldier who dedicated his life to his family and community.