Story and photo by Geoffrey Morris
Stuttgart Citizen volunteer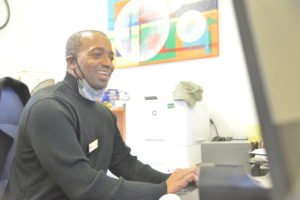 John Crosson moved to Stuttgart six years ago to work in the U.S. Army Garrison Stuttgart's Housing Office. He stepped into the Housing Office's Plans and Projects Manager position three years later and intends to stay as long as he can before returning stateside.
Crosson developed his love for Germany and Europe while growing up as a military brat. Born in Mannheim, while his father was stationed at Darmstadt, Crosson spent a lot of time in the Army world as a kid.
"We moved all around," he said. "Looking back, it's amazing the places I got to travel to and live in."
Crosson and his brothers followed in their father's footsteps and joined the Army as well. Crosson said he was looking for work and enlisted in 1982 to work in the Army's construction field. He got out after his first tour to try his hand in the civilian world, he said.
A few short years later he returned to active service, this time for good.
"I really missed the people," he said. "You just don't get this kind of camaraderie that we have in the military community out there in the civilian world, so I came back."
Crosson served for 22 more years and retired in 2006 as a Sergeant First Class. But he still wasn't ready to say goodbye to the military environment and began looking for work in the government sector. His first job took him back to Mannheim as the installation coordinator and he began climbing the ranks from there. After more than a decade working in government housing offices, he has some advice for customers navigating the housing process for the first time.
"Pre-plan and bring everything with you; even if you don't think you need it, bring it," he said. "Also, please be patient. We can't always give you exactly what you want because of rules and regulations above our level, but we try our best to help you where and when we can."
This year, Crosson celebrates 40 years of service to his country both in and out of uniform. He said the experiences he has had are invaluable but it's the people he came back for who continue to motivate him every day.
"I've worked and traveled all over. I mean, we were building things in all sorts of places," said Crosson. "But it's always going to be the people for me. I just love helping people, meeting people."
Crosson's time in Germany will be up in a few more years and he said he hopes to try out the "beautiful Pacific Northwest" for his next assignment. Regardless of where he ends up, he is confident that he'll return to Germany in no time.
When asked about his retirement plans, he added, "I'm taking it day by day, but I feel very lucky that when I look back at my life, I get that feeling that I did enough things right so that when that time comes, I will be taken care of."