USAG Stuttgart School Liaison Office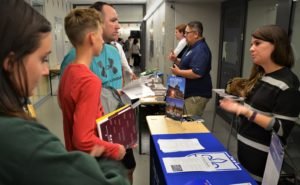 Our goal as school liaison officers is to help ease school-related transitions for incoming families. We hope this information helps to point you in the right direction, and we look forward to answering any questions that arise.
DODEA schools in the Stuttgart military community area include three elementary schools, one middle school and one high school. Parents can preregister the children online at the DODEA website.
You must then go to the school to complete the registration process with the following documents:
Sponsor's orders
birth certificate (K-2)
immunization record
proof of address.
Enrollment in elementary school is dependent on where you reside. School zone maps are available in multiple locations throughout the garrison.
Please note that there are currently elementary school zone exceptions for some hotels in the area, so contact the school liaison office, transportation office, or schools directly for the most up-to-date zone exceptions.  Also, remember to provide the school an address update when you do find permanent housing.
Other schooling possibilities include homeschooling, German schools, or International schools. Please contact us directly if you are interested in any of those options.  If you have other questions or concerns, or if there is anything that the School Liaison Office can do to help ease your transition to USAG Stuttgart, please contact us. We look forward to hearing from you and will do our best to connect you with your schools and community.
———————————————–
For the latest information concerning the 2020-2021 school year
and scheduled re-openings, visit the DODEA website.
As a DoD entity, DoDEA generally follows operational guidance from the DoD and local/regional commands. DoDEA is currently awaiting the publication of DoD guidance regarding planning for the reopening of facilities and operations impacted by the global pandemic. DoDEA is collaborating across the military services and with local installation commands and military health officials in anticipation of health and safety mitigations, specific to school operations, that will be required or recommended by DoD. DoDEA school re-openings may or may not mirror public school operational practices outside the installation, but will be based on the heath protection conditions and protocols established jointly with the commands and DoDEA.