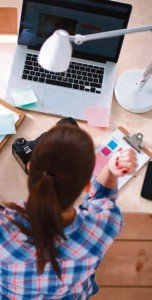 A home based business (HBB) may be a good means of employment for family members who relocate every two or three years.  There are many options available, and members are only limited by their own interests, and the financial resources available to them. However, a home based business must follow German law and garrison policies.
Individuals may not operate a HBB in Government-owned or -leased quarters until they have received written approval from the Installation Commander.  The Installation Commercial Affairs Office (ICAO), operated by the Family and Morale, Welfare and Recreation Business Division can provide the documents needed to obtain the necessary approval. An individual who wishes to operate an HBB must submit the required documentation at least 30 days before beginning operations. Click here for more information.
Home Based Businesses (HBBs) are an important contributor to Army Family quality of life – new changes to procedures makes it easier and quicker gain approval to operate an on-post HBB. HBBs allow family members to work from home, developing rewarding careers that follow them through PCS moves. The wide span of HBBs operated by Army Families includes:
Car repair/service
Hairdressing and hairstyling
Home baking and meal preparation
Pet grooming and pet sitting
Massage therapy
Retail sales from home
Home Based Business approval is quick and easy!
The Army's new standardized HBB application template streamlines the approval process.  Of course, installations are still required to adhere to local and state laws and regulations regarding home business operations, so check into those, too.
Here's the process:   
Step 1: Obtain the HBB Application.  Visit your Family and MWR representative or go online to download your HBB application and any required additional forms.

Step 2:  Complete the Application.  This includes visiting and obtaining approval from installation agencies like the housing office and community housing manager. The application should identify the agencies, but ask your Family and MWR representative if you have questions. If you need any additional documentation (like licensing or certifications), get that, too.
Step 3: Turn in the Application: Once you've completed your paperwork, submit the application to your Family and MWR representative. Keep a copy of the completed application for your own records. Within 60 days, you should get notification of approval.
USAG Stuttgart Home-Based Business Application Packet
Commercial Solicitation-HBB General Legal Guidance
Personal Commercial Solicitation Evaluation
Application for US Forces Europe Commercial Activity Authorization