By Katie Whisler
Stuttgart Community Spouses' Club
Moving to a new country can be exciting and overwhelming all at the same time. The financial burden can become a difficult challenge when trying to replace those small American appliances for German ones, trying to find new pieces to fit your home abroad and maybe even wanting to spruce up your wardrobe.
The Stuttgart Community Spouses' Club Patch Thrift Shop, has it all and more. In addition to selling practical items, the store resembles a mini-world bazaar since military families donate items from all around the world.
Their mission statement uses three tenants of equal importance (shop, donate, volunteer): "We will offer a quality thrift shop, not for our benefit but for the benefit of the Stuttgart military community and, in working side by side, develop relationships through fellowship, service and mutual respect."
There are tons of affordable and unique items. The thrift shop strongly believes in a green approach using reduce, re-use, recycle, and uses it as an opportunity to up-cycle.
Donations are its foundation. The thrift shop runs strictly off donations from members of the Stuttgart military community. Whether you are PCSing into Stuttgart and don't have room for everything you brought with you, or you are PCSing out and need to get rid of a few things you've collected over the years, the thrift shop is there for you with donation sheds outside for drop-off anytime.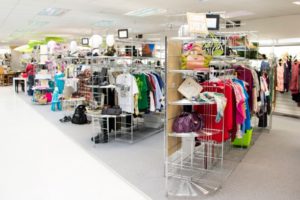 How can you donate?
It is always best to donate during open hours to thank donors in person; it is also easier for the staff to process donations and answer any questions about the donating process.
However, if you are unable to donate during business hours, there's a 24/7 donation shed. Please ensure all donations are placed inside the shed. It's illegal to leave them outside the shed and donated items may ruined by the ever-changing Stuttgart weather.
Donations are processed daily, so with the array of merchandise at bargain prices, it is never the same shopping experience twice. This is part of the fun and adventure of visiting the Patch Thrift Shop. Each donation that comes in is thoroughly checked by associates and volunteers to put quality merchandise onto the sales floor. Donations that can't be accepted (e.g. broken/soiled items or out of season clothing) are either disposed of or re-donated to other worthy organizations.
The Patch Thrift Shop doesn't accept mattresses and box springs, TVs, VHS players, cassette tapes, car seats and helmets, drop-side cribs, auto parts, gasoline-powered items, uniforms and military gear, liquid gas of any kind and food. Contact the Stuttgart Environmental Division at 0711-7228-6131 to dispose of these items properly or stop by the Reuse Center warehouse on Panzer Kaserne located across from the Panzer Commissary.
How can you get involved?
Volunteers are the heart of the SCSC and the Patch Thrift Shop. Without them, it wouldn't be able to run. The SCSC is always in need of dynamic, friendly and benevolent volunteers.
As a volunteer, you can make a measurable difference in the community, learn valuable skills, find meaning in your work, become part of the community, and most importantly, have fun and meet new people. Getting started as a volunteer is easy. Speak to any team members in a red apron at the thrift shop and ask for a volunteer application. New volunteers receive a 30-minute orientation explaining procedures and a tour of the store. Volunteers are never put on a schedule. Hours are flexible and time commitments can vary, but shifts should be at least one hour. Anyone over the age of 14 may volunteer (ages 12 and up are welcome with a parent).
Giving back to the community by shopping!
The Thrift Shop slogan is "Best Day Ever," because every day is a good day at the shop.
Shopping at the Patch Thrift Shop is a win-win situation. It's a way to give back to the community while getting something fun or useful for yourself.  All proceeds go right back into the community. Last year alone, the SCSC raised $387,670 that helped fund scholarships, military balls, youth sports and many other organizational welfare grants within the Stuttgart community.
Annual Events: Homecoming & Prom and Thriftmas Market
The Homecoming & Prom event is exclusive for girls to come in and try on dresses that the Patch Thrift Shop saved especially for girls to find that perfect dress for their special night. Girls spend the evening with their friends and female team members munching on popcorn and sipping lemonade in a relaxed and supportive environment.
The Thriftmas Market is the shops biggest event of the year. The shop closes for one week to completely transform the store into a winter wonderland. Each year brings a different theme sure to bring holiday cheer to the Stuttgart community.
Discounts: Remember, SCSC membership cardholders and junior enlisted service members and their family members receive a discount off of regular priced items.
For updated SCSC Thrift Shop hours of operation visit: https://stuttgartspousesclub.org/Patch-Thrift-Shop/ 
Stop by, email patchthriftshop@gmail.com or like them on Facebook at SCSC Patch Thrift Shop for updates on daily sales and newest displays.