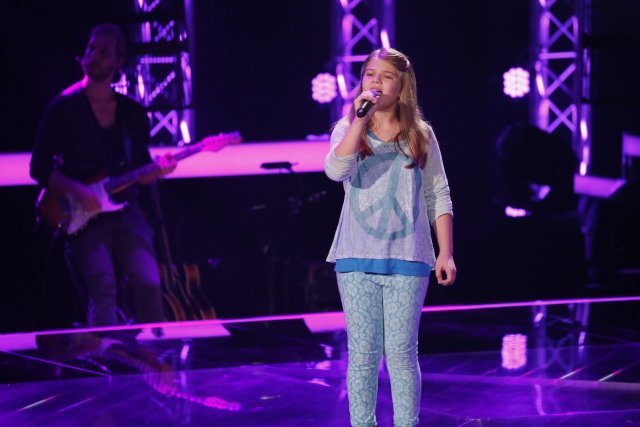 By Robyn Mack
USAG Stuttgart Public Affairs Office
Leilani Howland can't remember not singing. The 11-year-old says she's been doing it "forever." A timeline that's accurate – or maybe just feels that way – for someone whose family instills song in their daily routine.
"When our neighbors walk by they ask if we're having a concert in the house," her mother, Natascia Howland, said. Leilani and her sister, Bella, 16, have always been fans of a good sing-along, catching on quickly to the songs played in their favorite television shows and movies, and now regularly singing karaoke with the family.
The passion for music and natural ability to repeat songs is a family trait, which Leilani's father, Ron Howland, remembers fondly. "I played a lot of instruments growing up," the U.S. Africa Command contractor said. "And my grandfather could easily hear a chord and play it back."
"Leilani shares that talent," he added. So, when the opportunity to submit audition tapes for "The Voice Kids" was announced on YouTube, the family rallied together to support Leilani.
After making a video at home and submitting it to the singing competition, the Patch Elementary School student soon found out she was selected as a competitor for the program.
Since then, the Justin Bieber fan has participated in a variety of screening processes which have ultimately landed her an opportunity to share her talent on stage.
"It's been stressful," Leilani said. "There's a lot of steps to the process. But when I get on stage I just have fun."
As "the talent" for the show, Leilani has had the opportunity to work with vocal coaches, receive hair and makeup styling, and create memories and experiences her mom hopes she'll carry with her.
"It's exciting," the family said. "Leilani has beat out 10s of 1,000s of applicants to be where she is. We hope people watch the show and share in our excitement," Ron Howland said.
Just how many judges' chairs will turn for Leilani Howland? Stuttgart community members can watch and find out when "The Voice Kids" begins Feb. 5, at 8:15 p.m. airing every Friday on the German television channel SAT.1.
People can also show their support by visiting www.sat1.de/tv/the-voice-kids or voting at www.facebook.com/thevoicekidssat.1.