Commentary By Hannah Rhoden
Senior, Stuttgart High School
Special to The Stuttgart Citizen
The downtown Stuttgart New Year's celebration is very different from anything I've ever experienced.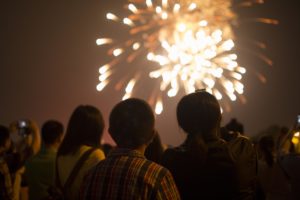 The crowds and occasional intoxicated wanderer were to be expected, but the level of disarray I witnessed was entirely new. I was never afraid before when firecrackers popped, even if they were a little too close for comfort. Nonetheless, I found myself feeling a little frightened as I walked to meet  my friends.  The streets were crowded with people. The streets were crowded with people and fireworks exploded randomly in every direction.
Before I reached the meeting point, I was approached by an older, inebriated male stranger who asked me to accompany him back his house. After I quickly responded, "No!" and walked away, he aimed and lit a rocket directly behind me. Instantly, fear ran through me; no one had ever had tried to harm me with a firework. Astonished, I quickly walked away, now very conscious of my surroundings.
Eventually I made it to my friends. We walked around the downtown area people watching and taking it all in. We noticed that the bigger the group, the more the Polizei seemed to pay attention. Looking back now, it was a wise choice to stick with a few close friends.
There is not much to do besides walk around aimlessly as we waited for midnight. This got tedious rather quickly. With an hour to go, we looked for a place to go indoors to warm up. However, the few places that were open were at full capacity. The restaurants were full of smart people who came with a game plan and booked in advance. We crouched around a small, two person table, until just before midnight.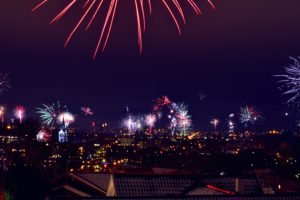 All chaos aside, the moment the clock struck midnight, the sky lit up and was absolute bliss. For a good five minutes, it was as if every firecracker in the downtown area was set off. Then, a thick cloud of smoke from the fireworks descended upon the crowd. Being my first time in downtown Stuttgart on New Year's Eve, the smoke was a surprise as nothing could be seen. I stood still,  unsure of what to do or where to go for the duration of temporary blindness. I felt as though I had stepped into a war zone.
Overall, the experience of celebrating New Year's was eye opening, and yes, it was fun, but I would definitely change a few things based on what I learned if I were to do it over again.
If you plan to brave the crowds this year in downtown Stuttgart, here are a few tips:
Make a reservation at a restaurant or club in advance to avoid the long wait outside until midnight
Make sure your cell phone is charged and bring a backup battery.
Have a meeting point with your friends to start the night, or to return to in case you get separated.
Do not engage with strangers or go back to their homes.
Keep emergency phone number programmed in your phone just in case you need to report something.
After midnight, be prepared with the flashlight setting on your phone to see, the post-fireworks fog is real.
Don't feel scared to approach a police officer, they are there to help.
Don't get caught up in the chaos have some fun!
There are always other options to ring in the New Year too, read more.
Fireworks in Germany: the do's and Dont's
Be sure to know what is legal in the town you live in. On-post, individual fireworks of any kind are prohibited. Off-post, fireworks may only be fired from midnight Dec. 31 until Jan. 1. If you don't want to ruin your neighborhood relationships, it is best to abide by these rules.
According to German law, shops are only allowed to sell fireworks, rockets, wheels or bangers in the time period from Dec. 29 to 31. Except for children's firecrackers, which are labelled "Klasse I" and may be used all through the year, regular fireworks, "Klasse II" fireworks, can only be purchased by adults. Lighting off fireworks at any other time of year requires special permission from the city you live in.
Read more about firework safety.
Editor's Note: Hannah Rhoden is a senior at Stuttgart High School and is a part of the Career Practicum program for the garrison Public Affairs office. She is a varsity cheerleader and the JROTC command sergeant major at SHS.