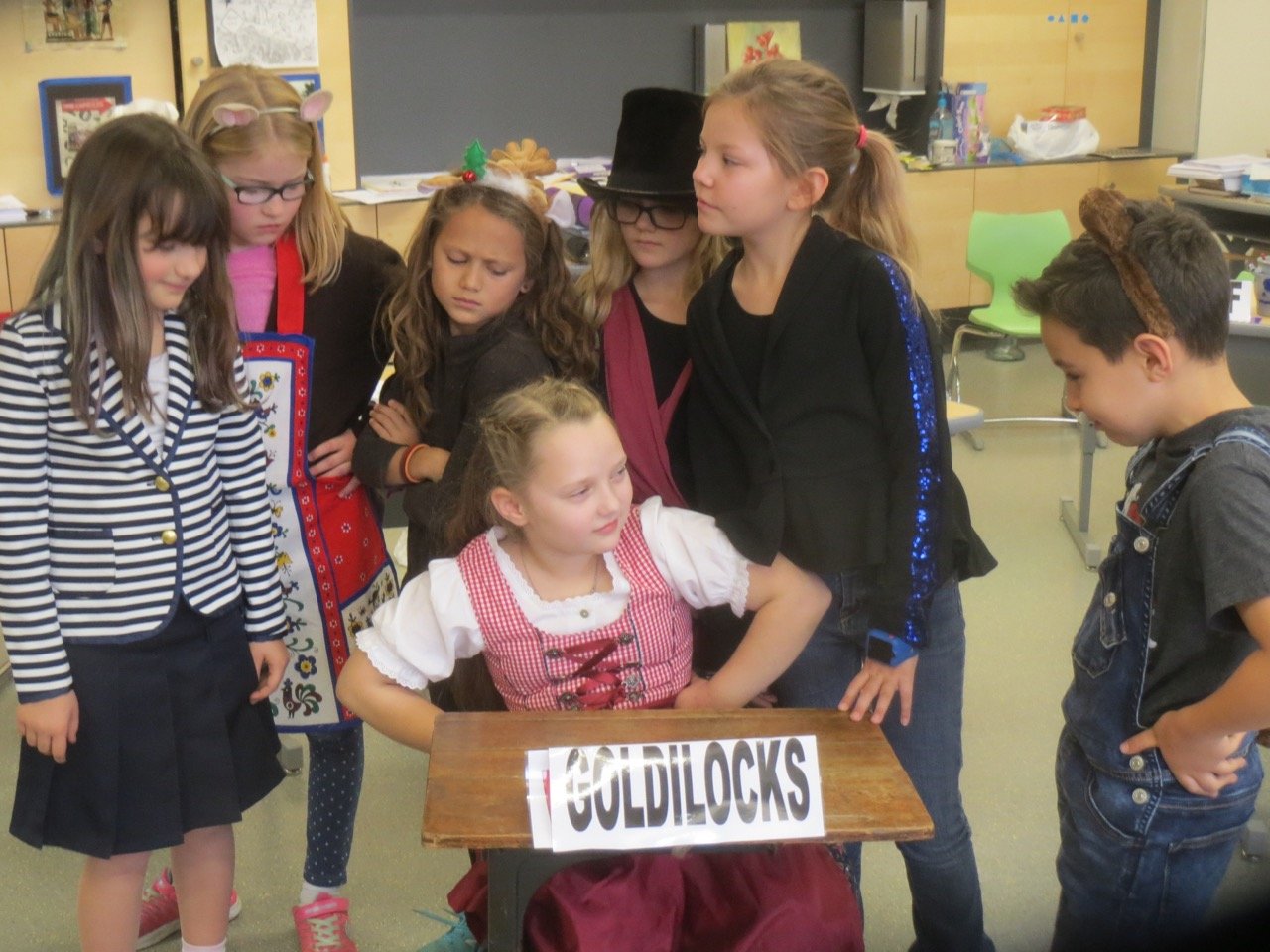 By John Reese
USAG Stuttgart Public Affairs
What do you do when you come home to find your porridge eaten, a chair smashed and catch a vagrant sleeping in your child's bed?
"Don't take the law into your own hands," advised Doug Llewelyn at the end of episodes of the 1980s show "People's Court.  "Take 'em to court."
That's exactly what teacher Dan L'Esperance's gifted education students at Stuttgart Elementary School did when they conducted a mock trial, Nov. 29, with Goldilocks as the defendant.
"I taught a unit on the American judicial system, culminating with the mock trial for my students' homeroom classmates," L'Esperance said.
Goldilocks, as the story goes, burglarized the Three Bear's residence by eating their food, accidentally breaking a chair and ultimately being caught sleeping in Baby Bear's bed. She was tried by a jury of her peers  in the SES gifted education room. In a moment, the results of that trial …
A jury of 3rd grade students listen as defendant Goldilocks uses a storybook to illustrate the facts of the case filed against her by the Three Bears. Photo by Tommy Thompson, assistant principal, Stuttgart Elemengary School.
Haley Harris, counsel for the defense, represented Ellyanna "Goldilocks" Thompson in court, while attorney Lydia Peery prosecuted the case for plaintiffs Christian "Papa Bear" Harris, Caroline "Mama Bear" Newkirk and Mailee "Baby Bear" Hilburn.
The students acting out the fairytale courtroom drama and the jury of teacher Nathaniel Lucas' 3rd grade class learned about a legal case is prosecuted and what it is like to be a member of a jury.
After heated deliberation, the jury informed presiding and top-hatted Judge Evalyn Schultes of their verdict: Guilty as charged! Goldilocks was sentenced to a year of making porridge for the Bear family and replacing Baby Bear's chair.
"Although the chair did not fit, the jury could not acquit," said Tommy Thomson, assistant principal, SES.