By Becca Castellano
U.S. Army Garrison Stuttgart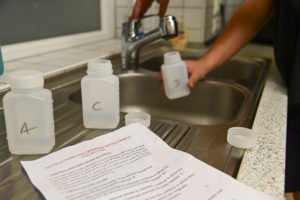 U.S. Army Garrison Stuttgart's Directorate of Public Works tested on-post water systems for lead and legionella during their annual water quality assessment.
In early spring, experts tested for legionella, a naturally occurring bacteria that thrives in fresh water under warm water temperatures and can persist in drinking water lines. If present in drinking water lines, exposure can occur by inhaling aerosolized fine water droplets, mainly through showers, and has the ability to cause Legionnaires disease.
To mitigate this risk, the Garrison tests facilities where heated water is aerosolized through showers and connected to boilers over 106 gallons in size. This year 123 buildings were tested, those of which included Army Family Housing, child development centers, clinics, gyms, hotels, and schools, said Veronica Vu, an environmental engineer with the Directorate of Public Works.
"There were some buildings that did exceed regulatory limits but affected residents were immediately notified and proper mitigation measures were taken through thermal disinfection," Vu said. "Upon resampling efforts, no exceedances were detected and community members were sent notifications."
Sampling is also conducted for lead levels in drinking water each year, sampling 20 percent of buildings deemed high risk on an annual basis in an effort to complete 100 percent of all buildings within a five-year cycle, Vu said. This year nearly 200 residences were tested, with no exceedances detected and completing the five-year sampling cycle, she added.
"When it comes to the quality of water supplied to the community, there can be no cutting corners." Col. Jason Condrey, USAG Stuttgart's commander.
"It's our goal to ensure we provide safe drinking water, but in order to do so we also rely heavily on community participation," Vu said, who explained how residents are required to collect water samples themselves from bottles provided by a contractor who then analyzes them. "The samples they helped us collect were analyzed and results remain in compliance with regulatory standards established by our Final Governing Standards for Germany."
Lead and legionella sampling events are just two of several water sampling efforts conducted annually in an effort to maintain quality drinking water provided to the community.
"Samples are collected and tested for over 100 different chemical and physical drinking water parameters, including the presence of heavy metals, volatile organic compounds, pesticides and herbicides," Vu said.
To help fulfill all our water testing requirements, sampling support is provided through Public Health Command Europe and U.S. Army Medical Department Activity.
When it comes to the quality of water supplied to the community, there can be no cutting corners, said Col. Jason Condrey, USAG Stuttgart's commander.
"The garrison team is focused on protecting the health and quality of life for those in our family housing, barracks and those that work or are cared for in our facilities," he said. "Water quality is just one of the areas where the combined vigilance and effort between the garrison professionals and the community is critical to maintaining the highest standards and expectations."
What can you do to improve drinking water quality? Take an active role in further improving the drinking water quality for you and your family by routinely practicing the following:
• Flush water faucets for approximately one minute prior to use for consumption.
• Use only cold water to prepare food and drinks (lead and copper dissolve more rapidly at higher temperatures).
• Regularly clean your faucet aerator screens as sediments that may contain lead can collect on faucet screens. Replace faucet aerators as necessary.