By Paul Hughes
USAG Stuttgart Public Affairs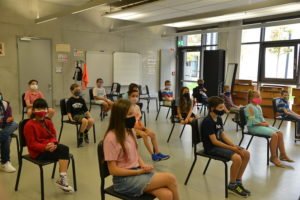 In August 2020, students and teachers resumed face-to-face classes at Stuttgart Elementary School after nearly six months out of the classroom sessions.
To prepare for their return, classrooms were stripped of carpets and desks were spaced apart. Hand washing stations were installed outside of each room and masks were mandatory when physical distancing could not be maintained. The first major difference most students noticed was saying the pledge of allegiance while wearing a mask.
Although children could no longer sit near friends and share hugs with teachers, the social interaction that coming to school provides was still present in every activity.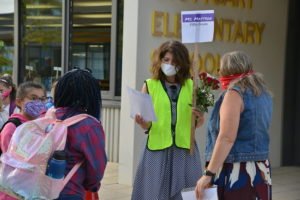 "The initial reaction from the students was pure excitement to be back after nearly half a year without classroom teaching," said Principal Tessa Moss-Beaman. "It really challenged their understanding of how important it is to physically be with their peers and the quality of those interactions."
Between new cleaning duties, one-way traffic patterns when transiting the school and spread out lunch schedules, children and faculty had to adapt quickly to a new normal.
"The students' resiliency has been a key factor in their success as they continue to follow mitigation efforts every day," Moss-Beaman said. "They hold each other accountable and have a great understanding of why it's so important to follow the rules."
When asked about the changes made at the beginning of the school year, 5th graders from Tammy Mattson's class, said they mainly noticed physical distancing and the move to electronic devices.
"Everyone wears masks and social distances, we do more on the computer now and less paperwork," said Nylah Swanigan. "I would prefer paper, because the computer kind of hurts my eyes."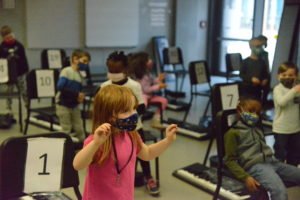 Jack Michaels added that "there's less contact and we can't hug anymore."
Despite these new measures, the students' response was described as remarkable by principal Moss-Beaman.
"They have adjusted to learning in an environment that requires them to be consciously aware of safety,"  Moss-Beaman said. "This has ensured that the number of COVID cases stayed at zero and that students remain together and learn in the classroom environment with teachers."
Stuttgart Elementary School has a perfect record against the coronavirus so far this school year with zero cases reported in classrooms. Moss-Beaman said that they have only had to make minor changes to their original COVID-19 procedures in order to bolster its effectiveness.
"Instances where children have to gather together, such as breakfast and lunch times needed refinement," she explained. Two "Griffin cafes," outside of the lunch room, expanded the school's ability to provide enough time and space to eat while maintaining physical distance.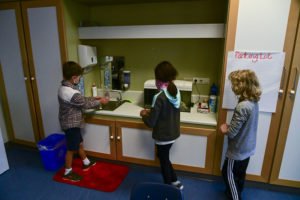 The support of the DoDEA district office, which supplied extra tables for gym dining areas, has been vital throughout the first half of the school year. Moss-Beaman said their quick responses to requests and suggestions has helped her school stay COVID-free.
"It's pretty astounding, we are the largest elementary school in the area and for us not to have closed is amazing," she said.  "We did have one close scare where it was a parent that tested positive and we briefly closed a classroom, but even that was out of an abundance of caution."
Because of the pandemic, a large proportion of teachers' time has been spent on mitigation efforts focusing on the safety of students and ensuring that in the event of a positive case, contact tracing can be undertaken, both within the facility and on buses.
"Collectively we have done an amazing job, and we could not have done it without the support of the parents, teachers and students," Moss-Beaman said.