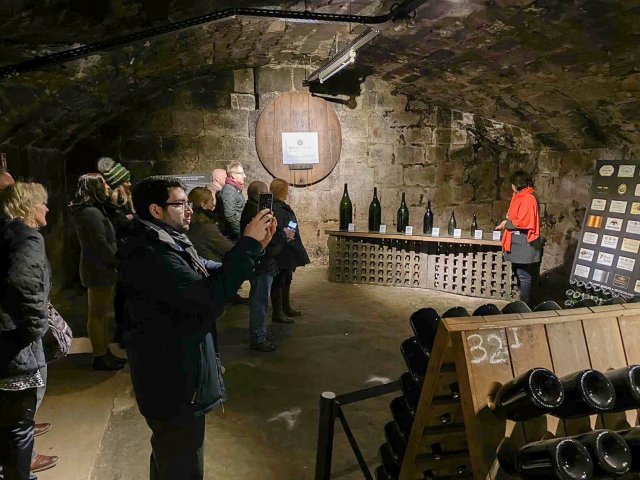 By Paul Hughes
USAG Stuttgart Public Affairs
Speak to any German and they will tell you that Sekt, or sparkling wine, is the all-purpose drink
for toasting any occasion … and they mean it. Germany consumes more than any other nation,
some 400 million bottles per year.
Around nine miles southeast of Stuttgart's city center is Esslingen. Here you will find a perfect
day out in a quintessential German Altstadt, home to market squares, churches, and cobble
stone roads. It also happens to be the birthplace of Germany's national drink, no, not beer –
Sekt!
Since 1832, Kessler has been making sparkling wines from their factory located in the 800-year-
old "Speyrer Pfleghof," a picturesque trade and administrative center in the middle of the town.
Within the Kessler factory, the entire manufacturing process from grape to glass is completed.
Kessler employs a traditional bottle fermentation process – rare among manufacturers of
sparkling wines. Most ferment bubbling wines in giant steel vats, thousands of liters at a time.
Kessler keeps things traditional and local, using Germany's famous Riesling as its base wine.
According to the Kessler website, Rieslings rich aromatic compounds called monoterpenes,
found in the grapes' flesh and skin, make the resulting sparkling wine particularly fruity and
perfumed.
"The production, as well as the labeling and packing of the bottles, happens here," said
Eberhard Kaiser, spokesman for Kessler. "To this day, this is the birthplace of every bottle of
Kessler Sekt."
Sekt actually goes through the same manufacturing process as French champagne, but due to
EU regulations, only sparkling wines produced in the Champagne region of France can carry that
name. Germany's Sekt is just as delicious and generally sold at a fraction of the price.
Kessler Sekt has been served during many state receptions, and some illustrious guests have
toured the factory, including Queen Elizabeth II, Charles De Gaulle, Bill Clinton and George H.W.
Bush. Visitors may take the opportunity of an English language guided tour to explore the vast
cellars beneath the factory where the wines ferment, some for several years before being ready
to enjoy.
During a recent tour, Bardia Khajenoori, a civilian employee with USAG Stuttgart, learned that the temperature in Kessler's cellar is consistent throughout the year. There is a rather unique explanation for this.
"I was genuinely surprised going through and seeing the walls lined with a thick black moss or fungus. I then learned that this fungus is purposefully maintained and actually plays a role in regulating the climate within the cellar, directly impacting the production process," Khajenoori said. "The guide was entertaining, informative and showed great enthusiasm for not only the product, but also the process."
At the end of the tour, visitors get to sample one of the vintage Sekts made by Kessler and learn
how to correctly sample it to ensure maximum enjoyment, Khajenoori said.
The Kessler Sekt factory is located at Marktplatz 21-23, 73728 Esslingen. Visitors can tour some
of the historic representational rooms of the factory and enjoy a glass of Sekt. For English guided
tours, call 0711-3105-9310 or send them an e-mail.
(Editor's note: This story, updated from a 2011 story by Carola Meusel, is provided as a courtesy for community members to explore local German culture and does not imply federal endorsement.)
A taste of home arrives in Stuttgart 
Many Americans living in Stuttgart were overjoyed to hear that one of their favorite burger joints – Five Guys – has followed them to Baden-Württemberg. In February, the DC-based chain opened in Ostereicher Platz. We sent Michael Collier, a Stuttgart Citizen volunteer, downtown on opening day to check it out. Here's what he learned.
How long has this been in the works?
Construction took place during the last six months of 2019 and wrapped up in January. What began in Virginia in 1986 has grown, across the U.S. and in popular overseas locations like London and Paris. They opened in Stuttgart at 11 a.m. on Feb. 2. It's the twelfth Five Guys in Germany and the first in Baden Württemberg.
What was it like on opening day?
When I got to the store on Königstraße, I saw many excited patrons lined up outside the door to order a freshly made burger. The restaurant was in a frenzy with customers spilling out the door and a view into the open kitchen where staff worked to assemble a fleet of delicious looking sandwiches.
What did you try?
After a brief wait in line, I ordered a 'little' cheeseburger, one milkshake and a small fries. That costs about 16 Euro. It took about 15 minutes to get the meal. While I did find the cost to be pricey, the food did surpass my expectations. My burger was unmistakably good. It tasted the same as Five Guys back home, where I've tried them in North Carolina, New York and Colorado.
Would you recommend it to friends?
For those expats looking for a reminder of home, I can confirm that Five Guys Stuttgart holds many of the same charms familiar to those who have frequented stateside locations. Newspaper articles on the wall, a write-your-own message board, and the same 1950s decor.
Any drawbacks?
You're going to pay more overseas for the experience. My "little" cheeseburger goes for €7.25 compared to the current American price of $5.39. With a current exchange rate at around €1 to $1.10, that makes a difference.
Anything else to add?
The two-story restaurant provides a nice ambience and a welcoming taste of home to those familiar with the stateside locations. Public transportation stops – to include the U-bahn stop at Ruhtebuhl Platz, are nearby, so it's easy to get to. For the taste of home, it's worth the trip downtown.
(Editor's note: This Q&A is provided as a courtesy for community members who really want an American-style hamburger and does not imply federal endorsement.)