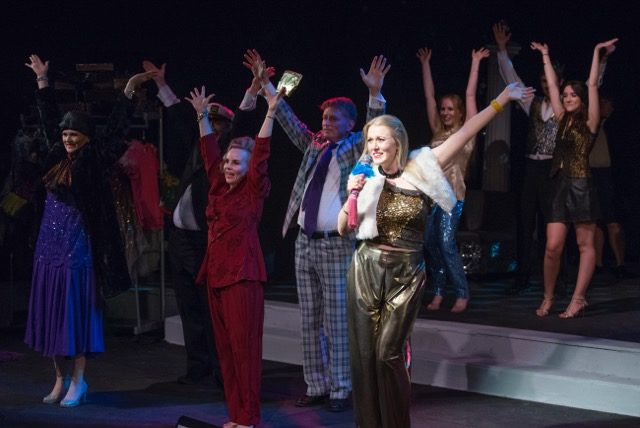 By Larry Reilly
USAG Stuttgart Public Affairs
After recently winning the 2017 TOPPERs Award for Best Play with their dramatic production of "A Streetcar Named Desire," the Stuttgart Theatre Center's cast and crew are exercising their vocal talents and comedic timing in "Disaster!," a 1970s-themed musical comedy and disaster movie parody.
Disaster! take place in Manhattan, New York in 1979 during the opening night of the Barracuda, the first floating casino and discothèque in the Big Apple. The characters gather to gamble and dance the night away, unaware of impending natural disasters like earthquakes, floods and an unsafe facility.
The plot follows a number of the characters and their interactions with each other as they deal with various plot elements significant of various 1970s disaster films such as "Tidal Wave,""Earthquake," "The Towering Inferno" and "The Poseidon Adventure."
If the plot's reference to these disaster movies doesn't take you back to the 1970s, then the 34 well-known songs of that era performed by the cast will bring back memories of bygone years.
The overall performance of the cast is top notch and really shows how well the actors are in sync with each other, especially in the group scenes and many songs. There are strong performances by cast members Nathan Dehnke, Brandon Kaye Thomas, Laura Cooney, Brittany Mbuyamba and Isabella King.
Dehnke, in his role as Chad, plays a young stud who is looking for some hot ladies at the casino, only to run into Marianne, who left him at the alter years earlier. Thomas, as Marianne, is a freelance reporter trying to get the scoop on the owner of the Barracuda, who supposedly came up short on funds and cut corners in the building of the floating casino. These two, awkwardly and humorously, reconnect throughout the performance and exchange their true feelings for each other via such songs as "Without You," "Feelings," "Sky High," and "Baby Hold On."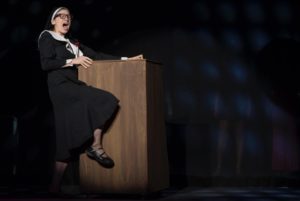 Sister Mary Downy, played by Cooney, is collecting money for an orphans fund and warns people that gambling is a sin. However, she is internally torn by two lovers: the Lord and the one-armed bandit. She hesitates at going into the casino knowing her weakness for slot machines but can't resist, and when she tries to leave, her rendition of "Never Can Say Goodbye" brings blessed tears to the eyes of the audience.
Mbuyamba, as Levora Verona, plays a faded disco star obsessed with her dog, "Baby." Her uncanny timing and ability to inject humor with facial expressions and taunt line deliveries is unbelievably funny.
King simultaneously plays two parts as twins Ben and Lisa, a brother and sister who just want a dad. Her ability to go from a Lisa shriek voice to a Ben raspy voice with just the removal of her baseball cap is truly adorable, especially when she performs both roles while singing "When Will I Be Loved."
Other cast members also give memorable performances. Tracy Coffey as Shirley, Kurt Brockhausen as Maury, David Burmedi as Tony, Ed Gaietto as Professor Ted Scheider and Emily Sherwood in her role as Jackie all bring their gifted acting talents to this musical. They had the audience singing to songs – at least those old enough to remember the 70s – and laughing throughout the show.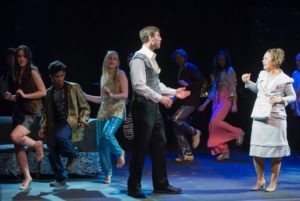 Although the cast may not earn any Tonys, they'll always be in line for a TOPPER for Disaster!
There are three remaining performances: June 9 and 10 at 7:30 p.m., and a Sunday matinee at 3 p.m. Reservations are recommended.
This weekend marks the final performance of the year for the Stuttgart Theatre Center's crew and cast. However, there is no better way to end a season then leaving the audience with smiles on their faces and songs in their hearts.
(Editor's note: For more than 50 years, the Army has produced a "Tournament of Plays" awards program across Europe to adjudicate live performances at Army and Air Force theaters. It is now known simply as the TOPPERs.)