By Holly DeCarlo-White
USAG Stuttgart Public Affairs
Stuttgart High School bid a fond farewell and congratulations to the graduating class of 2017 at Sindelfingen Stadthalle, June 7.
This is the second senior class to graduate from SHS, which opened in 2015 on U.S. Army Garrison Stuttgart's Panzer Kaserne.
Parents, friends and faculty were in attendance to witness the more than 150 graduates cross the stage wearing their black robes and mortarboard hats with gold tassels to collect their diplomas. For those who could not attend in person, the school's audio visual team broadcast the ceremony live online for viewers around the world. Watch the recorded broadcast here.
Senior Class President Sean Loeben opened the ceremony by highlighting some of the challenges his fellow military family students face – and overcome – leading to graduation.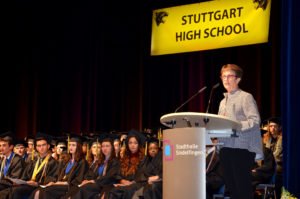 "It's worth recognizing that the class who sits here before you is very different than you typical high school graduating class. Some of us have lived in more countries than those people have visited," Loeben said.
Entertainment throughout the evening included the SHS band, senior singers and a moving rendition of popular music artist Ariana Grande's "Right Now," performed by Sydney Ramsey and Aleska Morales.
Guest speaker Ambassador Susan M. Elliott, civilian deputy to the commander and foreign policy advisor of U.S. European Command, described her own children's experiences moving with a diplomatic family and her unique career path from nursing to foreign policy.
"Your experiences living outside of, and in different locations in the U.S. have really enriched and changed your lives, even if it doesn't seem like it now," Elliott said. "[Moving] made us all understand not only to be resilient, but to appreciate people from other cultures and backgrounds."
Elliott asked students to remember the importance of continuing education saying "the more well-educated you are, the better life you, and your children, and your families will have. It's not just formal education, it's dedicating yourself to learning new things throughout your life. Try new things."
Elliot also encouraged students to take risks and that without having done so, she would not be where she is today. She emphasized the importance of personal values and inspired students to make a difference, no matter how small.
"A good life is not just defined by wealth, it's defined by honesty, integrity, caring and giving back to the community. Every one of you has the ability to make a difference," Elliott said. "Even if each of you make a small positive change in the life of just one person, or change one small thing for the better, eventually, collectively, you will change the world."
SHS graduate's plans after high school varied across the map from the military, to two-to-five year university programs, or taking a gap year to travel or build professional experience and portfolios. Some planned to stay in Europe for college, while many are headed to the States to begin their new adventures in the fall.
"I believe that as we graduate, we close the cover to one book and begin an entirely new one," said James Lynch, valedictorian.
The students crossed the stage one by one to receive their diplomas from SHS Principal David Carlisle and Assistant Principal Tessa Moss-Beaman. Cheers rang out as teachers Brandi Johansen and Billy Ratcliff read each of their future plans.
Carlisle instructed students to turn their tassels as a rite of passage before officially announcing the graduating class of 2017.
"With adult freedom comes responsibility…your life will be what you make it," he said.